Manic Street Preachers. - CD Singles Reviews
Back to artist page
The Manics are the crème de la crème of CD singles. They have a ton of them, and each one comes with not just a plethora of b-sides (often genuinely great ones, too) and era-specific designs, but the band's habit of including a descriptive quote from a writer or an artist with each of their albums summarising its themes extends to their singles too. Each single comes with its unique sleeve quote, with the different issues of different singles featuring unique quotes. It's a wonderful treasure trove to collect and that's why they get their own page here.
(This page is currently undergoing formatting changes and other tweaks, in case you were wondering why it all looks so chaotic and inconsistent)
---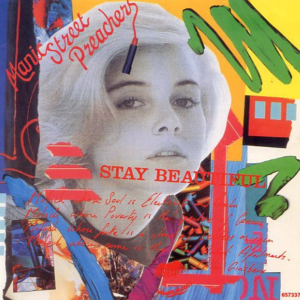 STAY BEAUTIFUL
| | | |
| --- | --- | --- |
| Release date: | A-Side: | B-Sides: |
| July 1991 | 8 | 5 |
1) Stay Beautiful; 2) R.P. McMurphy; 3) Soul Contamination
"Stay Beautiful" was the Manics' first single on a major label, released a good eight months before Generation Terrorists - and so I can't help but think how curious of a package this must have been as the widespread "debut" single of a new act, maybe especially so if you were already familiar with the earlier independent releases. "Stay Beautiful" bursts through first with awkward levels of studio polish, followed by the twee and acoustic "R.P. McMurphy" and the decidedly more scrappy "Soul Contamination" which sounds like the shaky work of a band much wetter behind their ears than either of the other two tracks would indicate. This is only three songs long but it's quaintly messy to an impressive degree, especially for their first release under Columbia. What on earth would this band end up sounding like on their full-length album, whenever that would come out?
Out of the two b-sides "R.P. McMurphy" is the far stronger one. If you're deep enough into your Manics lore to be familiar with the early early demos, you might recall that amidst all those chaotic punk songs are a couple of peculiarly random bubblegum/twee adjacent pop songs which the band quickly buried as a direction to ever strive for, but the ramshackle acoustic jubility of "R.P. McMurphy" is like a fossil from that era (which is interesting in its own right because there is a demo of this song from those days and it was a much more straightforward, full-band punk song back then). It sticks in your head too, both thanks to the stop-start rhythm and the upbeat "na na na" hook that coats its chorus. "Soul Contamination" meanwhile harks back to the New Art Riot EP days and is a raggedy throwaway punk song, remnant from still-recent history that the band was quickly moving beyond. It's one of the most inessential songs in this band's b-sides catalogue and given their b-sides can be measured in triple digits, that's saying something.
"Stay Beautiful", of course, is a Manics classic and just about the perfect song to use as their formal re-introduction to the world. If the Manics starred in a cartoon this would be their descriptive theme song (there are a few more perfect descriptions of this period of the band than "we're a mess of eyeliner and spray paint"), and the infamous production of Generation Terrorists can't hold its raucous energy down. It's not one of their best songs from a songwriting perspective, but stands as one of their definitive tracks regardless.
Physically: Slim jewel case. The band were still finding their feet with what they were doing with singles, so this stands out in a couple of ways. One, the art design is completely unique from the rest of the era (which had barely even started given how early on this was released as a single) and so there's no visual continuity between this and the rest of the singles from this album. In addition, instead of a singular summarising sleeve quote this is loaded with four different quotes, laid out chaotically in the inner sleeve. It's too many and too lengthy for me to reproduce here, but the quoted writers include Brett Easton Ellis, Valerie Solanos (the exact same quote about male chromosomes as would appear on "Little Baby Nothing"), Guy Debord and William Burroughs.
---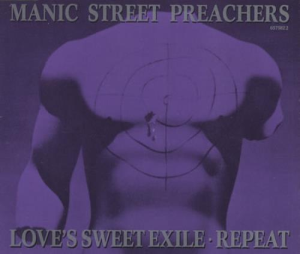 LOVE'S SWEET EXILE / REPEAT
| | | |
| --- | --- | --- |
| Release date: | A-Sides: | B-Side: |
| October 1991 | 7 | 8 |
1) Love's Sweet Exile (Radio Edit); 2) Repeat; 3) Democracy Coma
I know the Manics discography inside and out by now but it still always takes me by surprise when I realise just how early on "Love's Sweet Exile" was released as a single, well in advance of Generation Terrorists and ahead of all the other songs that actually sound like singles. It's a chaotic sensory overload of a song that breathlessly runs through stream-of-consciousness verses, chant-along choruses and a guitar solo that exists solely for James Dean Bradfield to show off his chops faster than you can comprehend it, built on a muscular rhythm and an aggressively masculine attitude, all squeezed into three minutes (the single version doesn't have the acoustic intro that the album version would have). It's mad - and catchy, for sure, but the sort of thing you keep as a deep cut or release as the last single of the record when you have to find new tricks to keep people's attention in you.
But it makes more sense when you think about how it's ostensibly been paired as a double A-side with "Repeat" - a song that didn't get a music video, had no promotional appearances and has been excluded from every Manics single collection since, because releasing a song with "repeat after me / fuck queen and country" as the chorus hook as a single was never about promotion in a conventional sense. This whole double A-side is another early Manics manifesto piece, a statement of intent more than it is a preview of the album they were working on or an attempt to get their songs on the radio. The Manics are wiggling their eyebrows at you and practically salivating at the thought that you will be paying attention to their antics, by releasing a pair of anti-commercial and confrontational punk rock songs as their next move on a big label.
The hidden ace in their sleeve is the sole b-side "Democracy Coma", which sounds more like a single than either of the actual A-sides. It soars and hints at the band's growing anthemic tendencies, and it marries the single's continuing anti-monarchy theme with a melodic touch that's absent from the other two songs. Manics are famous (among the fans anyway) for having a plethora of b-sides that could have been classic album cuts or even singles on their own right and "Democracy Coma" is the first instance of that. I love "Love's Sweet Exile" in all its bonkers over-the-top aggro ("Repeat" less so - it does its one thing in the first 15 seconds and then repeats it for three minutes, but it's got a bit of fun dumb punk groove to it once James starts wailing his guitar again), but "Democracy Coma" is the highlight of this single.
Physically: Slim jewel case. You can see the general visual design of the Generation Terrorists start here, with the way the band's name is stretched across the top though the font's still not quite there. The sleeve quotes begin in earnest, with Camus' "Then came human beings, they wanted to cling but there was nothing to cling to" adorning the inner sleeve and representing the vague theme on "Love's Sweet Exile" about finding nothing in modern society.
---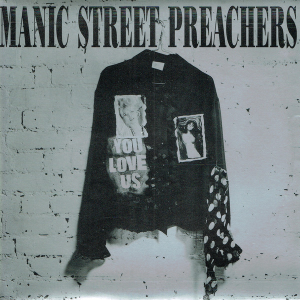 YOU LOVE US
| | | |
| --- | --- | --- |
| Release date: | A-Side: | B-Sides: |
| January 1992 | 8 | 6 |
1) You Love Us; 2) A Vision of Dead Desire; 3) We Her Majesty's Prisoners; 4) It's So Easy (Live at the Marquee 04/09/1991)
The Manics had already released "You Love Us" a year earlier while still on Heavenly Recordings, but it makes sense why they re-recorded it for their debut: it was their calling card, the sarcastic flip of a love declaration urging the music press to admit that regardless of the music, they adored the noise the Manics were generating with their actions and statements. It became the signature song of their early years, and here it's presented with more muscle and bravado than the original - and with a show-off guitar solo finale as opposed to the happy-go-lucky outro of the original version. Over the years I've come to prefer the cheeky jubility of the Heavenly recording but it's hard not to see why this became the canonical version: it's so much more in-your-face and that's exactly what the young Manics rode on.
The b-sides are much more of a mixed bag. "A Vision of Dead Desire" is the prehistoric demo track "UK Channel Boredom" given a new lease on life along with a new title, but time has moved on from its charm and whilst it does have a cheeky little stomp to its verses, the nothing of a chorus is a clear indication why the band didn't consider it suitable for the parent album. "We Her Majesty's Prisoners" was originally released on the "Motown Junk" single and brought back as-is, warts and all (check out Sean dropping the beat after the first chorus): it's rough and a little naïve, but it has the best chorus of the entire four-track set and its anthemic, melodic swoons are an early indication that there was more to the Manics than was apparent at the time. It's a great song and well worth recycling. The tracklist is capped by a live cover of Guns 'n' Roses' "It's So Easy", a nod to the band's shared adoration for Appetite for Destruction - but a group of young small town punks still figuring out the range of their skillset isn't quite the same as a rowdy group of heavy metal dudes from LA. It's a flimsy throwaway of a recording where the main point of interest is how high the backing vocals are mixed, otherwise it offers little beyond curiosity value.
Physically: Slim jewel case. The liner artwork is a simple picture of a graffiti ("Molotov cocktails of fantastic destruction" scrawled on a wall), and the sleeve quote is from Public Enemy: "False media - we don't need it do we?"
---
---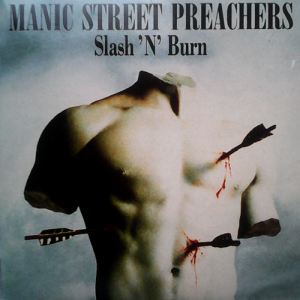 SLASH 'N' BURN
| | | |
| --- | --- | --- |
| Release date: | A-Side: | B-Sides: |
| March 1992 | 8 | 8 |
1) Slash 'n' Burn; 2) Motown Junk; 3) Sorrow 16; 4) Ain't Goin' Down
"Slash 'n' Burn" was the first single off Generation Terrorists that was released after the album was out, but it was already the fourth single release of the campaign as a whole - and keep in mind that the album itself was a 18-track colossus that the Manics loaded with obvious and intentional filler so they could fulfill their fantasy of a bombastic entrance. In short, the Manics were steadily running out of material they deemed fit to release and I imagine that's why two of the b-sides here are the band's proper debut single "Motown Junk" and its respective b-side "Sorrow 16". The third song, "Ain't Goin' Down", is the first in what would be many acoustic James Dean Bradfield solo spots that conveniently end up happening towards the tail end of album campaigns, when the label tells they need to include a brand new song on the single and Bradders has the ten minutes to spare that he needs to knock one out on his own.
Despite all that (or because of, given what they are recycling) , this is one of the strongest Generation Terrorists singles in terms of the whole package. "Slash 'n' Burn" itself was an obvious single choice and one of the best songs of its parent album. "Motown Junk" is of course downright iconic and the perfect distillation of the pure youthful vigour of the early Manics and "Sorrow 16" is more of the same but a little more unhinged as well as more jubilant - the former is an all-time Manics great, the latter is as good as it was the first time around. "Ain't Goin' Down" is the underdog but after three songs of big riffs and bravado, it's a comforting comedown that still manages to sound as full of defiance and teenage rebellion as the other three songs, and thanks to its more intimate approach it makes it sound borderline heartwarming and sympathetic - it's one of my favourite b-sides of this era.
Physically: Packaged in a digipak this time instead of the previous slim jewel cases, and starts the trend that would mostly go on for a while after this. My copy of this is meant to be a "limited edition gold CD" (the front of the CD is dirty gold coloured, that's it) but looking at Discogs I can't really see any difference between this and the standard. The inside cover has just a picture of the band, and the sleeve quote at the back is from Melville: "Only the man who says no is free".
---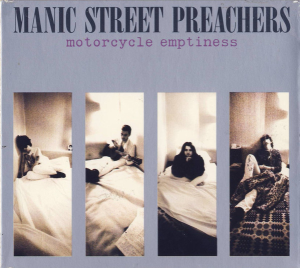 MOTORCYCLE EMPTINESS
| | | |
| --- | --- | --- |
| Release year: | A-Side: | B-Sides: |
| June 1992 | 10 | 5 |
1) Motorcycle Emptiness; 2) Bored Out of My Mind; 3) Under My Wheels (Live); 4) Crucifix Kiss (Live)
If you were to anoint one song as the definitive Manic Street Preachers song, "Motorcycle Emptiness" would be the most likely contender to hold that title. "A Design for Life" is their unquestionable signature song and "If You Tolerate This" is the grand international hit which brought them wider success, but "Motorcyle Emptiness" is timeless: it's the one song that you could pluck out of its parent album and place in any other Manics album, and beyond a couple of the extreme outliers in their discography it would comfortably fit in. It distills so much of the band's DNA within its six minutes, from their ethos and ideals to what makes them tick musically and lyrically. Manic Street Preachers as a concept is distilled into this song, and I can't think of a song that would define them as a musical group better- and it's a phenomenal song on top of all that. Bradfield's riff (inspired by ABBA's "Dancing Queen") is arguably his most iconic guitar part and it is a thing of grandeur, but so is damn near everything else on the song. James' voice is full of gravitas and depth that otherwise doesn't get much chance to shine on Generation Terrorists, the lyrics are a hectic wild jungle of stand-out one-liners and each one sounds absolutely vital and poignant, and the middle-eight is forever going to be one of the band's very finest individual moments: how the strings swoop down, how the gentle piano comes to lift James (that twinkling 'riff' deserves a place among Manics' top melodies in its own right) and how it slowly starts building the pace back together. It's a song so fine that it's the one thing that could possibly unite every faction of the band's fanbase in admiration of how stunning this piece of music is. The version on this single is the whole six-minute original as well, because trying to rip it apart into a radio edit would only tarnish the song.
"Motorcycle Emptiness" was the fifth (!) single off its parent album, and as already evidenced by "Slash 'n Burn", by that point the band had started to dry up on their previously prolific b-sides. Thus, the selection of extras hold no candle to the A-side. "Bored Out of My Mind" is the sole Manics original and it certainly distills the titular Sunday afternoon malaise perfectly, presented in a slow and largely acoustic half-awake drawl - it's actually quite decent and knocks out a fairly strong chorus melody, but it's easily on the bottom tier of Generation Terrorists bonus tracks and not miles away from evoking its title a little too literally. The radio session recording of Alice Cooper's "Under My Wheels" is about a throwaway as a cover can get, and the live version of "Crucifix Kiss" is an OK live version of one of the flimsiest songs on the debut album, with a breakdown section that sounds like a mistake at first. As great as the A-side is and as lavish as the multi-fold digipak packaging is for an early 1990s CD single, the b-sides are largely a pass and not worth spending the time to hunt them out.
Physically: As mentioned, a digipak that folds out numerous times on both sides, with lots of individual band member photos adorning the sleeves: it screams "classic single", like the band knew what they had in their hands and celebrated it with a luxurious physical package. "The more sensitive you are, the more certain you are to be brutalized, develop scabs, never evolve. Never allow yourself to feel anything because you always feel too much." -Marlon Brando
---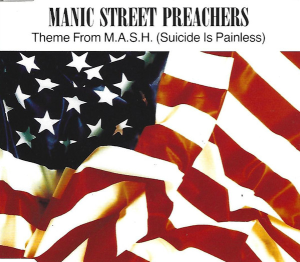 THEME FROM M.A.S.H. (SUICIDE IS PAINLESS)
| | | |
| --- | --- | --- |
| Release year: | A-Side: | B-Side: |
| September 1992 | 8 | 3 |
1) Manic Street Preachers - Theme from M.A.S.H. (Suicide Is Painless); 2) The Fatima Mansions - Everything I Do (I Do It for You); 3) Sleeping with the N.M.E.
In-between the Generation Terrorists singles rounds, the Manics were invited to partake in a compilation arranged by the music publication NME for their 40th anniversary celebrations. The prompt was to cover a former UK #1 song and the Manics' rendition of Johnny Mandel's "Suicide Is Painless" not only was released as a promotional single for the compilation but it became the band's first top ten hit. It's a great version and dare I say the definitive take? The Manics were gearing towards Gold Against the Soul already and this is almost a sneak preview of the more heavier riffs and hard rock arrangements that would be all over that album, the Manics sound far more muscular than anywhere on their debut and the new tempo switch and guitar ramp-up that the band bring to the table really makes the song explode in a manner that the original TV theme, understandably, couldn't do.
Contrast this with The Fatima Mansions' version of Bryan Adams' "Everything I Do", which this was ostensibly a double A-side with, which is fucking terrible. I'm sure it was spectacularly amusing to turn a syrupy populist power ballad into an arthouse electronica collage, but it reeks of trying too hard with its near-tuneless deconstruction of the original composition and the absolutely unbearable vocals with the kind of theatrical mannerisms that only the singer's own shower could love. I can't say I have any idea of who or what Fatima Mansions were beyond this cover but it's a repellant against wanting to find out either. I can't imagine anyone would spare the time for this and including it as a supposed double A-side feels like an act of trolling from NME at best.
The final track here isn't really a song but rather an interesting piece of history for Manics fans. In May 1991 NME journalist Steve Lamacq confronted Manics' one-man propaganda division Richey Edwards about the band's authenticity and grilled him about whether the band were for real or just a bunch of posers trying to get rich quick - after an hour's back-and-forth Richey's ultimate response was to carve the phrase "4REAL" on his arm with a knife, in one of the most infamous moments of the band's history. "Sleeping with the N.M.E." is a fly-on-the-wall recording of a number of NME journalists (including Lamacq) discussing the incident and whether or not they could (or should) print the photos that had been taken of Richey's bloodied arm. It's an interesting piece of behind-the-scenes media to one of the most talked about moments in the band's lore, and for anyone who wasn't aware of the Manics at the time it happened and only read about the incident afterwards, it hammers the point that it really did occur and that the reactions to someone harming themselves right in front of another person's eyes were more human than the later mythology has cared to remember. It's a really fascinating piece of audio, but it's absolutely not music - and definitely not something I could even start to rate, so I won't.
Physically: Digipak, with the front cover effectively representing the Manics side and the back cover acting more in line with the general design of The Fatima Mansions' singles at the time. No artwork on the inside, and no sleeve quote as technically this was something NME pushed out rather than Manics released from their camp.
---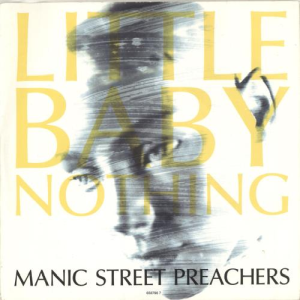 LITTLE BABY NOTHING
| | | |
| --- | --- | --- |
| Release year: | A-Side: | B-Sides: |
| November 1992 | 9 | 7 (CD1) / 7 (CD2) |
CD1: 1) Little Baby Nothing (Radio Edit); 2) Dead Yankee Drawl; 3) Suicide Alley; 4) Never Want Again
CD2: 1) Little Baby Nothing (Radio Edit); 2) R.P. McMurphy (Live at Club Kitta, Kawasaki, Japan, 1992); 3) Tennessee (Live at Club Kitta, Kawasaki, Japan, 1992); 4) You Love Us (Live at Club Kitta, Kawasaki, Japan, 1992)
A release made by a band in transition. "Little Baby Nothing" was the last single off Generation Terrorists and by that time were already moving away from their punk rock past and into a more conventional rock sound, and the four songs here act as a bridge for this phase. On one hand we have "Never Want Again", a song that could have been a single in its own right had the band kept it brewing for a little longer, with its boldly uplifting melodies and soaring choruses primed for stadiums with no twists or attempts to deconstruct anything: it's simply a gorgeous, direct rock song. "Dead Yankee Drawl" is a sign of things to come - while its glam punk tones are forged from the same fire as the rest of Generation Terrorists, James' vocal performance is far more in line with the more dramatic tone he'd adopt for Gold Against the Soul, though from a songwriting perspective it's an obvious if still decently enjoyable discard for a reason. The band's debut single "Suicide Alley" has also been included here, and there's layers to why it's here. The obvious one being that in line with some of the other recent b-sides being recycled from older releases, it was a way for newer fans to get their hands on songs that were now long out of print; but not only is its lo-fi punk glory a reminder of where the band began before the next chapter would begin, but the Manics reused its verse melody as the chorus for "Little Baby Nothing" itself and it being here is a delightful meta nod.
Speaking of "Little Baby Nothing" (here with the album version's intro cut off), it's the precursor to all the commercial rock moments the Manics would entertain themselves with from time to time in the next few decades, its DNA eventually leading the band to all the Send Away the Tigers and Postcards from a Young Man. There's always been a side to the Manics that has embraced the somewhat cheesy desire to unite everyone to a grand singalong and with the 1980s only just behind, that tendency rearing its head all the way at this stage ends up showing clear inspiration from hair metal power ballads. So yes, it's a little corny - and you could also endlessly debate whether a group of men singing about women being used by the entertainment industry and recruiting a (formerly) underage porn actress to duet with them on it hits a little off the target with the obvious quest for attention or if it comes across as an earnest declaration of support (and given it's the early Manics, it's probably a mixture of both). But Bradfield - always too proud to let a good song get lost in Wire and Edwards' provocative habits, pulls it off by serving some of the debut's greatest sets of melodies and decorates it with an arrangement that sounds like a songwriter really stretching his wings - and to give her the credit that's due, Lords pulls off her part perfectly despite no prior background in music, giving the song the counter-voice that it needs. The best is saved to the end when in its last moments the song manages to nail down all the delusions of grandeur, naïve off-beatness and genuine talent hiding underneath it all that the early Manics were packed with, transforming from its original mission statement into a battle cry of everything the young Manics stood for - "Rock and roll is our epiphany / Culture, alienation, boredom and despair", indeed.
"Little Baby Nothing" was the first Manics single that came with two CD issues: in a couple of years this would become the standard mode of operation for the Manics, but here the format decision feels somewhat more random (potentially a way to ensure that the sixth single off the album gets some decent sales figures). The CD2 has been tailored to be a little bit of a deluxe issue aimed at the fans, with an actual illustrated centerfold instead of the usual blank white insert included with slim jewel cases (including photos of the band and the now-traditional sleeve quotes). The b-sides are a selection of live cuts from the band's 1992 Japan tour which would go on to become the stuff of legends for them, as they were greeted by a crowd of madly enthusiastic fans during their very first trip far outside Europe as a rock band - the crowd screaming Nicky's name across the three live songs is an indication of the levels of fandom the band were suddenly thrown into. It probably wasn't the intention at the time but retrospectively the selection of songs are also real points of interest for the fans: you've got the early b-side "R.P. McMurphy" which probably receives its first and last live appearance ever here, as well as the Generation Terrorists deep cut "Tennessee" - which admittedly is one of the album's flimsiest songs but would similarly get thrown into the vault to never be played again after this tour. Maybe its the obscurity of them but I actually quite enjoy both: "Tennessee" has a bit more energy to it when facing the crowd, and "R.P. McMurphy" is a James solo performance and has the lovely charm of an impromptu intimate treat. The set here closes with "You Love Us", played with all the firecracker energy of the young band (the solo in the end in particular goes about three times as fast as it does on the album) - it's a well worn song in this day and age, but the young vigour of the band who's only just relatively recently released it gives it a whole different edge in comparison to once it has become a fixed setlist staple for years.
Physically: Both come in slim jewel cases but as discussed above, CD2 has an actual visualised centerfold. Both issues feature the Valerie Solanos quote "The male chromosome is an incomplete female chromosome. In other words the male is a walking abortion; aborted at the gene stage. To be male is to be deficient, emotionally limited; maleness is a deficiency disease and males are emotional cripples". CD2 also has another quote: "The party is not concerned with perpetuating itself. Who wields power is not important, providing that the hierarchical structure always remains the same", from George Orwell's 1984.
---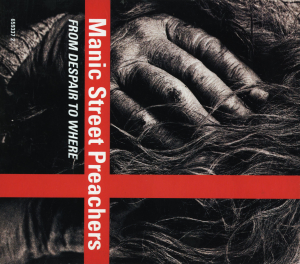 FROM DESPAIR TO WHERE
| | | |
| --- | --- | --- |
| Release year: | A-Side: | B-Sides: |
| June 1993 | 8 | 8 |
1) From Despair to Where; 2) Hibernation; 3) Spectators of Suicide (Heavenly Version); 4) Starlover
Not just the lead single from Gold Against the Soul but doesn't this also sound like the first Manics song with a "classic" Manics widescreen rock sound? You can trace the band's eventual stylistic evolution all the way to parts of Generation Terrorists, but "From Despair to Where" makes their musical leanings so obvious it might as well be a direct foreshadowing. Ironically, that's what makes it gets lost in the crowd somewhat: it's a great song but so akin to so many of the Manics' other, later singles that it gets slightly buried under not just the other three singles off this album (all of which offer something more "unique") as well most of the album cuts as well which bear the album's signature muscular rock sound, whereas this is borderline subtle compared to everything else. Because of that it's a song I rarely think about, but one I also keep pleasantly rediscovering from time and time again: it is a great song both lyrically and musically, with that underlining organ being a particular favourite detail.
Most of the b-sides here are recycled from the early Heavenly singles, a sign of just how small of a gap there was between this and Generation Terrorists, which meant that the sessions were relatively economical in terms of song amounts and thus barely any excess songs were available for b-side usage. But it is a handy way to add these two songs to the collection given the Heavenly singles go for a fair amount (back then already and even more now). The original version of "Spectators of Suicide" is the canon version and a miniature classic in its own right, and at the time would have hinted at the band's growing ambition to move beyond simple punk songs, exploding with melody and soaring like an anthem. "Starlover" on the other hand could easily pass as a Gold Against the Soul leftover with its crunchier guitars, but the rushed punk feel clearly has its feet in the band's earliest years - it's good, and gets particularly fun with its bridge ("woo-hoo-hoo!") and solo, but not exactly a historic treasure. The sole brand new song here is "Hibernation", a really beautiful and unexpectedly touching mostly-acoustic piece that stands wide apart from anything else the band was doing with Gold Against the Soul. The lyrics, with their more storytelling nature, are also very atypical for the Manics and signals perhaps an experiment from Wire and Edwards to try out a different style ahead of the more introspective lyrics of the album. It's a lovely song, with a particularly delicate vocal performance from James (displaying his choir boy falsetto in all its glory) and the highlight of the b-sides.
Physically: The GATS singles are frustratingly inconsistent: not only do the band not continue with the traditions they had set for themselves with the GT singles, but the singles themselves are completely inconsistent with one another. It's a return to the digipaks (though flipped for this single, for some reason), with a double fold to allow for a wide photo collage - but there's no sleeve quote, which is just baffling. Did the band think they'd only do them for GT at first?
---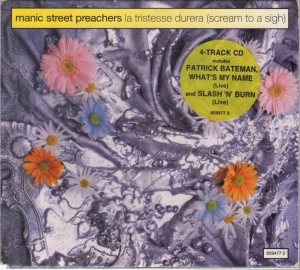 LA TRISTESSE DURERA (SCREAM TO A SIGH)
| | | |
| --- | --- | --- |
| Release year: | A-Side: | B-Sides: |
| July 1993 | 9 | 6 |
1) La Tristesse Durera (Scream to a Sigh) (7" Version); 2) Patrick Bateman; 3) What's My Name (Live at the Cambridge Junction, October 1992); 4) Slash 'n' Burn (Live at the Cambridge Junction, October 1992)
Yes there is an A-side here and yes, it's definitely worth talking about, but let's be real here - "Patrick Bateman" is what we come for this single package for.
Quite easily one of the most infamous songs in the Manics' back catalogue, "Patrick Bateman" is ridiculous. It's the closest the band have ever come to going metal, with those heavy muscular riffs and those bellowing vocals: Bradfield seemingly channels James Hetfield and the long solo in the end is pure headbanger fuel. But it's also a very literal song about the titular character, with no real nuance or analysis into his mindset and really just coming across like a book report written in rhyme - and one that climaxes with a gentle multilayered vocal (imitating a children's choir) singing "I fucked God up the ass" out of nowhere. It's one of the longest songs they've ever recorded too, and that was allegedly the reason why the band chose to not include it on [Album60545,Lipstick Traces] despite being one of the most voted songs by the fans - but we really know it's because part of them probably just wants to bury it in the past. Some people hate it, some people love it and there's a whole spectrum there just how much of that love is ironic; and I'm not sure either whether I think it's a great because it's [i]actually[/i] great or because its ludicrous over-the-top madness is just that much fun. But I do think it's great, and regardless of everything that's awkward about it, the melodies are top notch underneath it all and Bradfield's performance is fierce.
(and despite being the black sheep of the Manics catalogue, it's actually quite an important song: before the actual sessions for Gold Against the Soul were due to begin, it was given to the young sound engineer by the name of Dave Eringa to practice his producing skills on - effectively kickstarting his role as the more-or-less fifth Manic for decades to come)
The b-side may steal the attention but "La Tristesse Durera" itself is legitimately great, no irony or caveats needed. Compared to much of its parent album it's a simple song with little of the over-the-top elements of the rest of the record, but that's where its strengths lie - the constant forward momentum, always going onto a new gear at the end of each section, is an ongoing thrill ride as it builds from a gentle falsetto-laden intro to the arena rock explosion it eventually becomes (though the radio edit clips the end by leading it into a fade-out). It's the best song on Gold Against the Soul because it is so uncomplicated, letting the band's matured songwriting and performance take lead without all the album's excesses coming in the way. The notoriously fickle Manics have retained this as the one song they always roll out from this album in their setlists up to this very day, and in all honesty it's for a good reason.
And speaking of setlists, the single is rounded off by two perfectly perfunctory live cuts. The cover of The Clash's "What's My Name" is a typical Manics live cover i.e. more fun for them to play than it is for the listener to pay attention to, and you'll never feel the want to hear it again. "Slash 'n' Burn" is a great song and it does make some logic to include a version of it on these singles given it's the closest thing on the debut album to Gold Against the Soul aesthetically, but the live version here doesn't really add anything to the original, and in fact somehow sounds less powerful even though you'd expect the live dynamics to outshine the dodgy drum machine production of the studio version. Basically, it's two filler songs you'll only ever re-listen in the occasion that you're planning to review the single and want a quick refresher.
Physically: Another digipak, and this one has no sleeve quote either - just a photo of the band in the inner sleeve. The glue job on my copy is a little sloppy, the CD tray is very askew from the cardboard back. Sloppy!
---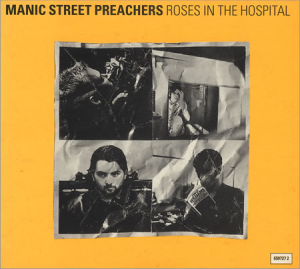 ROSES IN THE HOSPITAL
| | | |
| --- | --- | --- |
| Release year: | A-Side: | B-Sides: |
| September 1993 | 9 | 6 |
1) Roses in the Hospital (7" Version); 2) Us Against You; 3) Donkeys; 4) Wrote for Luck
The Manics have rarely had to censor their singles, typically the radio edits are only to do with cropping the length of the songs for easier airplay. Part of that is likely because Bradfield is smart enough not to save his catchiest anthems for the most expletive-laden lyrics he gets, but undoubtedly early incidents like "Roses in the Hospital" have acted as a warning sign for every release since. Rather than bleeping the prominent "we don't want your fucking love" out of the chorus, it's been rerecorded with Bradfield singing out the title instead and the "row-ousees iin thee hoos-pii-taal" is such an awkward fit that it it pulls the breaks on the song. But beyond the naughty words it makes sense why this was the single, with its trendy leanings towards the baggy scene, the catchy call-and-answer verses and the big hooks littered throughout; it's the third most obvious single on the album and thus no wonder it was chosen as the third single.
The single package also houses "Donkeys", one of the big fan favourite b-sides: a gentle and haunting slowburner that isn't afraid to be honestly beautiful too - with a prominent bass part and a great guitar solo, it's instrumentally a stand-out as well, and overall could easily have become a mainstay torchlight moment in the setlists had it not had the unfortunate luck of becoming a b-side. Meanwhile the romping and stomping "Us Against You" is a slightly aimless growler that's primarily here to reiterate that the Manics can still be political, after the more introspective lyrical turn of the album; though the aggression could also be considered as an early sign of where the band was heading towards their next album. It's not a highlight but still a decently enjoyable romp, and you can say the same about the Happy Mondays cover "Wrote for Luck", which I'm imagining/hoping was included as a nod to the musical inspiration behind "Roses in the Hospital" itself. The Manics have translated it successfully enough for their own soundworld and you could argue it's even catchier than the original (James' whoah-ahs certainly have more spring to their step than Shaun Ryder's), but the Manics have never sounded particularly convincing when they're playing their favourite tunes from other artists and that disconnect is present here too. I can't really complaint about the cover, but it doesn't really beckon me to revisit it either?
Physically: Digipak again, but most excitingly the sleeve quotes are back! "My father still reads the dictionary ever day. He says your life depends on your power to master words." (Arthur Scargill)
---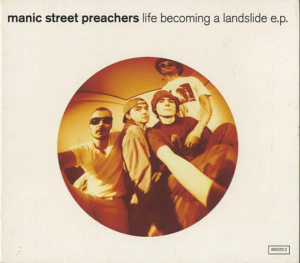 LIFE BECOMING A LANDSLIDE
| | | |
| --- | --- | --- |
| Release year: | A-Side: | B-Sides: |
| January 1994 | 8 | 8 |
1) Life Becoming a Landslide (7" Version); 2) Comfort Comes; 3) Are Mothers Saints; 4) Charles Windsor
The general lack of cohesion across the Gold Against the Soul singles rears its head the most on this, the last of the era. There's no real reason why this has been given the "special" EP label: "Life Becoming a Landslide could be found on Gold Against the Soul and this serves as the last promotional single off that album, the first three singles also had four tracks each and there isn't really any particular cohesion to the b-sides here either. There was no chart rule change to explain it either, and given the laziness of the artwork it feels like no one paid any mind to this release. I know no one else cares about this stuff than me, but it irks me...
"Life Becoming a Landslide" is a fan favourite and the emotional heart and soul of the generally very bravado-posturing album it's from, and it makes for a great single, but it's the b-sides that this release is most famour for. This was released at the end of January 1994 and shortly after the Manics would coop up in a small Welsh studio to manifest The Holy Bible into reality. "Comfort Comes" is generally seen as the pre-cursor to what's to come with its cold and jagged post-punk twitch and James' erratic vocal touch, and the McCarthy cover "Charles Windsor" has replaced the jangle pop of the original with a more intense and aggressive punk arrangement that has shades of [i]The Holy Bible[/i]'s attitude. And though "Comfort Comes" is a great song and one of the stand-out b-sides of the band's quartet years (the McCarthy cover is fine), the real find here is "Are Mothers Saints" which tends to get lost in shadow of the others. It's a fabulous song with one of James' greatest melodies and some of his most elegant guitar playing of the entire era, striking beautifully as both bittersweet and tenderly vulnerable and which builds into a long guitar solo that has a firm place in my favourite Manics solos. It's a sublime piece of music and whilst it doesn't invoke the big Bible like the others, it is like the final farewell to the Gold Against the Soul period. One of my favourite Manics b-sides overall.
Physically: Still continuing with the digipaks. The rest of the artwork is just as lazy as the cover, with more photos from the same shoot with different angles. The sleeve quote this time is the dictionary definition of the word "child".
---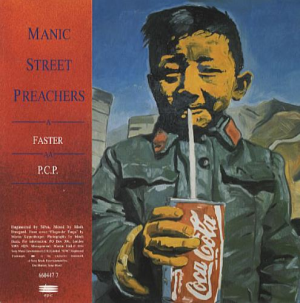 FASTER / P.C.P.
| | | |
| --- | --- | --- |
| Release year: | A-Sides: | B-Sides: |
| 1994 | 9 | 7 |
1) Faster; 2) P.C.P.; 3) Sculpture of Man; 4) New Art Riot (In E Minor)
Hey Manics fan! Did you remember that "P.C.P." is technically a single? Despite ostensibly being a double A-side it didn't have a video, didn't receive promo performances, hasn't been included in any singles compilations and was completely absent from the National Treasures concert where the band played all their singles up to that point (apart from "Suicide Alley"). To be fair it is paired with "Faster" - one of the most iconic Manics songs there is, an enormous fan favourite and the definitive mission statement of [Album388]. So, it's obviously get overshadowed and even on this release it never quite feels up to par with its celebrity sibling, even though its impish joy is actually quite exciting in its own way. It's the light flipside to the darkness of "Faster" and together they form a very interesting first preview of The Holy Bible: both brilliant songs in wholly different ways.
The studio b-side for this single is "Sculpture of Man", one of the Manics' most wonderfully irreverent songs: a two-minute punk blast that's worth hearing alone to hear James spitting out words at an inhuman speed as he attempts to cram the incredibly wordy, reference-heavy and vehemently nihilistic lines into rapid fire verses. It's a delightfully insane vocal take for what is a generally completely deranged song, and it's my favourite part of the generally quite fun little romp. Out of the three studio b-sides for The Holy Bible singles it's the closest to the parent album's aggressive spirit, just with a mean sense of humour to it.
There's also a live version of the early Manics EP cut "New Art Riot" (I know, I was disappointed too to find out it wasn't an alternative studio version), which is decent enough. It's more interesting for the parallels it draws: technically it had only been a couple of years between its original release and The Holy Bible and it's just stunning how much the band had changed in such a short time period. And yet, played by this (slightly) more experienced band with a more muscular pulse underneath it, it's actually quite close to, surprise surprise, "P.C.P." - which suddenly reveals itself to be an updated take on how the Manics started. So it's an interesting thing to add from a meta perspective here, but the recording quality isn't too great and the performance isn't so memorable that you'd, well, remember it. All in all, it's just an OK enough curio to listen to only whenever you end up digging out this particular single release.
Physically: "They are deceived who flatter themselves that the ignorant and debased slave has no conception of the magnitude of his wrongs. They are deceived who imagine that he arises from his knees with back lacerated and bleeding, cherishing only a spirit of meekness and forgiveness. A day may come - it will, if his prayer is heard. A terrible day of vengeance, when the master in his turn will cry in vain for mercy" -Solomon Northup. Young Manics really loved their long sleeve quotes. Stored in a digipak with a double fold cover, full of Manics photos.
---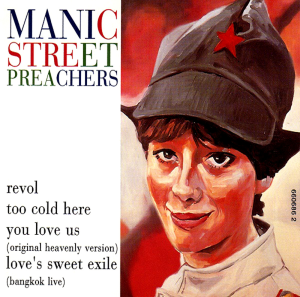 REVOL
| | | |
| --- | --- | --- |
| Release year: | A-Side: | B-Sides: |
| August 1994 | 8 | 7 |
CD1: 1) Revol; 2) Too Cold Here; 3) You Love Us (Heavenly Recordings Version); 4) Love's Sweet Exile (Bangkok Live)
CD2: 1) Revol; 2) Drug Drug Druggy (Live at Glastonbury, 24 June 1994); 3) Roses in the Hospital (Live at Glastonbury, 24 June 1994); 4) You Love Us (Live at Glastonbury, 24 June 1994)
The "Revol" single is emblematic of the difficulties the Manics were facing during this period. The Holy Bible isn't exactly an album full of potential radio play favourites and the fact that this weird-ass, twisted post-punk freak-out where the lyrics consist of a list of tyrants, dictators and politicians juxtaposed with cryptic (and often sexual) descriptions for each became a single is a sign of the slim pickings - I mean it's a snappy three minutes and has a shout-along chorus so that counts for something, right? The band also wasn't in the right headspace to keep recording music thanks to Richey's constantly deteriorating state, so there were no real b-sides sessions for the singles and instead they - and the label - gathered what they could. The original Heavenly version of "You Love Us" was the only Heavenly song that hadn't yet been re-released on the Sony era so it makes for a decent disc filler - but it's a great version and I'm glad it's here, because these days I think I prefer its gleefully whimsical attitude and the bouncy singalong outro to the muscular Sony re-recording and its guitar solo histrionics. The live version of "Love's Sweet Exile" comes with subpar recording quality and the band sound like they're rushing to get it over and done with, so it's not much to really get excited about. The sole new Manics original is "Too Cold Here", a James solo piece which is clearly here because the band were asked to record a new song as the b-side but didn't want to or didn't have the material to do so - so James took the bullet and spent an hour in the studio recording something on his own. Not to be dismissive though - it's a really beautiful song and a tenderly melancholy flipside to the album's loud rage. James sounds genuinely worn out about everything around him and Richey's lyrics (I am presuming it's Richey anyway) are uncharacteristically uncomplicated and vulnerable, and the combination of the both makes it starkly effective.
While "Little Baby Nothing" back in 1992 was the first Manics single to get the twin CD single issue treatment, "Revol" is where the dual format becomes a staple for the band - outside a few intentional exceptions, all Manics singles going forwards come with two CD issues with unique b-sides to them each. Presumably this is because "Revol" wasn't exactly screaming 'hit single', so Sony took upon themselves to embrace market trends and push the single with two issues.
The b-sides for the CD2 version are all live performances taken from the Manics' 1994 Glastonbury set. The concert was held a few months before The Holy Bible was actually out and so outside of a few teasers of new songs, the set was mostly comprised of older material. However the band was already in full Holy Bible mode (coordinated military outfits on stage and all) and you can hear in these renditions just how over the band (and James in particular) was of Gold Against the Soul. There's some incredibly chaotic ad-libbing going on throughout "Drug Drug Druggy" and "Roses in the Hospital" where James sounds like he's on the verge of snapping mad, and the typically upbeat "Roses in the Hospital" (or as James introduces it, "all aboard the Soul Train with the Manic Street Preachers...") in particular sounds like it's being pushed through with pure spite and frustration, with James absolutely losing it during the big drum breakdown section. It's actually quite entertaining and makes these a little bit more interesting than your usual live versions tacked on as b-sides. "You Love Us" rounds off the disc with a generally straightforward plow through the song - the song always pops off live, especially during these youthfully energetic days, but after the other two live takes it's a little rote and mainly just makes for a lovely little meta coupling to the Heavenly version of the song included on the CD1 issue.
Physically: The sleeve quote for both singles is the same long excerpt from George Orwell's Animal Farm - specifically the part where the pigs are depicted as transforming into humans. CD2 is stored in a standard slim jewel case, but CD1 is in an extra-thick "slim"-style jewel case with space included for two CDs - the idea being that you could combine both CD issues inside these covers, including the cover slip for CD2. It's a fancy idea, though not one I imagine many collectors will actually entertain.
---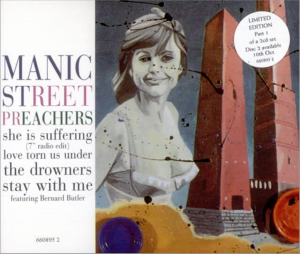 SHE IS SUFFERING
| | | |
| --- | --- | --- |
| Release year: | A-Side: | B-Sides: |
| 1994 | 8 | 5 |
CD1: 1) She Is Suffering (Radio Edit); 2) Love Torn Us Under; 3) The Drowners (Live at the Clapham Grand, March 1994); 4) Stay With Me (Live at the Clapham Grand, March 1994)
CD2: 1) She Is Suffering (Radio Edit); 2) La Tristesse Durera (Scream to a Sigh) (The Chemical Brothers Vocal Mix); 3) La Tristesse Durera (Scream to a Sigh) (The Chemical Brothers Dub Mix); 4) Faster (The Chemical Brothers Dub Remix)
Given The Holy Bible isn't really an album full of big single options, "She Is Suffering" makes sense - it's relatively comprehensible compared to most of the other songs and its steady pace - complete with a careful disco beat - makes it easy to approach. It's a great song that often gets lost among the album, and that menacingly dark groove is a big part of it, but unfortunately it also has one of the worst radio edits in the Manics' back catalogue. Most of the removed length is on account of trimming down the guitar solo which is business as usual with single edits, but what makes this so especially jarring is because the build-up to the solo has been retained so when the song suddenly flips back to the brooding quiet of the last verse, it is so obvious that there's a piece missing. It sounds like something I could have butchered in Audacity, not a professional edit. I almost want to rate the version here down for it, almost.
Like all the singles from The Holy Bible, this isn't particularly rich from a bonus track perspective either (understandably, given everything that was escalating). The lone studio b-side is "Love Torn Us Under", another sparse James-only cut; it tries to match the dark mood of the parent album and it's a decent enough song but you can tell that creating new songs wasn't the priority at this point in the band's troubled history, and it perhaps tries a little too hard in being dark and moody. It's got a great guitar solo to compensate for the lack thereof in "She Is Suffering" but beyond that it's one for the hardcores. The other two b-sides on the CD1 issue are live covers of Suede's "The Drowners" and Faces' "Stay With Me", both featuring Suede's Bernard Butler on guitar and recorded at both band's former manager Philip Hall's memorial fundraiser concert. The emotional charge is high in the air but the sound quality leaves a lot to be wished for, I'm not a huge fan of either song in the first instance and the performances don't carry particularly strongly over to just audio. Mere curios, all-around.
The run of lackluster b-sides continues on the CD2 issue, the first in the soon-to-be regular business of CD2 issues stacked with remixes. This one features remixes of both "La Tristesse Durera" and "Faster", both by The Chemical Brothers (back then known as The Dust Brothers), and they're all among the worst Manics remixes. This isn't really a diss against The Chemical Brothers themselves though I'm not a big fan, but for whatever reason every remix they submitted for the Manics is subpar - these hard techno remixes are they're repetetive and monotonous across the board and even compared against each other, they're way too long for what they offer and they're devoid of anything memorable. Manics have had an overall pretty good history of remixes but these offer little of value. I like the distorted guitar riff that goes through the "La Tristesse" ones (the dub is basically just the same as the other mix but sans the vocals), but the piddly drum machine that steals the center stage on the "Faster" remix is actually just kind of annoying, and it's a margin worse than the other two remixes.
Physically: The same double format that "Revol" had continues with this one too: CD1 in a thicker dual-CD "slim" jewel case, CD2 in a standard slim jewel case but which can be inserted into the first issue's box. Both singles also carry the same quote: "There was the other culture, a culture destroyed but still inside us alive. In this sense I Knew not only with my intellect, I knew with my senses and my body that the West was not the only civilisation" -Octavio Paz
---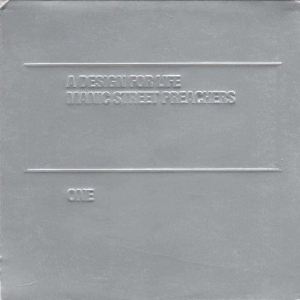 A DESIGN FOR LIFE
| | | |
| --- | --- | --- |
| Release year: | A-Side: | B-Sides: |
| April 1996 | 9 | 8 |
CD1: 1) A Design for Life; 2) Mr Carbohydrate; 3) Dead Passive; 4) Dead Trees and Traffic Islands
CD2: 1) A Design for Life; 2) A Design for Life (Stealth Sonic Orchestra Remix); 3) A Design for Life (Stealth Sonic Orchestra Soundtrack); 4) Faster (The Chemical Brothers Remix)
A song so good that it literally resurrected a band. Following Richey's disappearance the Manics were fully equipped to call it a day but then Wire wrote the lyrics to "A Design for Life", Bradfield wrote the music for it and the whole trio realised they had something special in their hands - a song so special that it all but demanded to be recorded and released. "A Design for Life" not only restarted the Manics and reinvented them for the next chapter of their lives (though it's maybe not quite as far-fetched as you might think given the anthemic leanings the band had already started to show preference to prior to The Holy Bible) but it became their definitive song in the UK. They've had hits bigger than this from a chart perspective (famously stalled at #2) as well as ones with generally bigger impact (with "If You Tolerate This..." sweeping across the Europe), but despite the many candidates it'd be hard to argue against "A Design for Life" not being their defining signature song. And yet, I've always been just a small touch removed from it. It's a fantastic song and one of their most important moments, absolutely no doubts about it, but not one I'd personally perhaps place among my very favourites of theirs, simply from the perspective of personal resonance. I think that a song which touches so much on something as quintessentially British as class division and its reflection in the modern age by default necessitates a deeper personal understanding of that subject to truly hit, and as an impat that's something I'm never going to fully grasp no matter how many thinkpieces I read; but it's the reason why this song above anything else they've done has continued to live so strongly in their native UK. That and how it dresses up that topic in an undeniably incredible musical arrangement and sweeping chorus. Like said, a fantastic song regardless.
The b-sides for the CD1 single issue are a delightfully varied lot, though still carved from the same piece of wood. "Mr Carbohydrate" is the first glimpse of Wire's obsession for autobiographical mundanity and one of the most un-rock statements that a rock band could ever make in its honest admiration of everything boring and gleefully snarky brushing-off of rock mythos; musically it's also a real delight, aligning itself closer to the Britpop crunch of their peers than anything else in the era but retaining Manics' own personality with it. "Dead Passive" is a spiteful attack against various troubled Hollywood keeping-up-appearances marriages of its time in a typically hamfisted Wire way, but the slightly clunky text is brought to life through marching snare rolls and pastorally whimsical choruses with an almost medieval flair. It's an oddity of a song and the most stereotypically b-sidey of the bunch but its combination of ideas is so off-kilter that it sticks. "Dead Trees and Traffic Islands" closes the single with a lush, flute-accentuated romp: with its killer chorus, suave and charming atmosphere and some rather classy sha-na-nas near the end, it's a nod to the orchestral accents of the A-side, but more propulsive and hectic. It's a really curious, delightful bunch of b-sides and opens the era with intrigue and excitement.
The CD2 issue of the single introduces us to the Stealth Sonic Orchestra (an Apollo 440 side project) series of remixes, which would become a regular feature for the next couple of years on Manics single CD2s - typically served as the pair of both the main remix as well as an instrumental version (the "soundtrack"). The "A Design for Life" remix is among the best and also very indicative of what these remixes aim to be, toning down the traditional rock elements and reinvisioning the songs as a little more loungey, little more evening wear-y versions of themselves with more "orchestral" arrangements. It's a suitably elegant reimagining of "A Design for Life" and works well - and part of the these days misses the little piano twinkles in the main version too. Tacked on at the end is the Chemical Brothers remix of "Faster" - the instrumental version was released on the "She Is Suffering" single and so the main remix is now awkwardly placed here; the sterile and rackety synth-punk redo doesn't sound particularly convincing and has little of the original's power.
Physically: The "A Design for Life" single introduces the packaging format that the Manics would continue to use for the next several years, and one I've not seen used for any other CD singles of the era so it feels uniquely Manics. It's wonderful too: a cardboard case which then reveals an inner slipcase sleeve, containing new artwork (here it's photos of nature, randomly), the credits and the sleeve quotes. From hereon in as well the sleeve quotes will also vary between the issues, so we have two here. "The creation continues incessantly through the media of man. But man does not create... he discovers. Those who look for the laws of nature as a support of their new works collaborate with the creator. Copiers do not collaborate. Because of this, originality consits in returning to the origin." -Antoni Gaudi (CD1); "The architect, by the relationships which he creates he wakes in us profound echoes, he gives us the measure of an order which we feel to be in accordance with that of our world, he determines the various movements of our heart and of our understanding; it is then that we experience the sense of beauty" -Le Corbusier (CD2)
---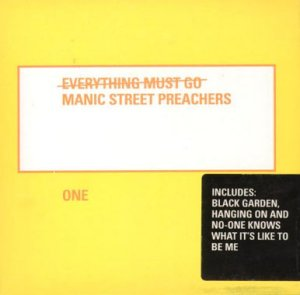 EVERYTHING MUST GO
| | | |
| --- | --- | --- |
| Release year: | A-Side: | B-Sides: |
| July 1996 | 10 | 6 |
CD1: 1) Everything Must Go; 2) Black Garden; 3) Hanging On; 4) No One Knows What It's Like to Be Me
CD2: 1) Everything Must Go; 2) Everything Must Go (The Chemical Brothers Remix); 3) Everything Must Go (Stealth Sonic Orchestra Remix); 4) Everything Must Go (Stealth Sonic Orchestra Soundtrack)
The A-side is one of my favourite songs on its eponymous album, and it's actually my favourite of the album's singles (yes, even beyond "A Design for Life", but the single release itself is the runt of the litter on what is generally a fairly high quality era - and that includes the overall packaging and design, with the drab yellow "that'll do" rush job. The CD1 issue does deliver one excellent addition to the b-sides catalogue though with "Black Garden", driven by Wire's bass groove and harbouring a gloomier atmosphere which acts a reminder that The Holy Bible was only two years ago (and the lyrics themselves feel like Wire attempting to channel Richey circa 1994): it's doing something different to the rest of the era and it's doing it very well, making it a legitimately excellent extra even if it never had a running for an album slot for stylistic reasons alone. The other two songs on the other hand are some of the flimsier b-sides the Manics have pushed out. "Hanging On" is a pleasant three minute rocker and its insistent chorus is an earworm by force, but there's very little to it otherwise and it's really obviously something James threw together in five minutes to meet a deadline. "No One Knows What It's Like to Be Me" is even weaker, its stop-start verses and choruses stumbling everytime they go to a halt, and Wire's list lyrics are a clearly salvaged from his binned drafts. The whole song sounds incredibly flat as well, and what could be a jaunty little rocker ends up limping to the finish line. The demo on the 10th anniversary edition of Everything Must Go has much more life to it and proves this could have been something better, but the version we've found here is about as nondescript filler as it gets.
The CD2 issue isn't much better than the main issue with its b-sides. The Stealth Sonic Orchesta remixes are one of the highlights of the Manics remix history and the one for "Everything Must Go" is pleasant as well, really heavily leaning on the orchestra element of the shtick and turning it into a dramatic showstopper ballad - but I would rank it as my least favourite of the five different SSO treatments that were released under Manics singles in the late 1990s; plus I always feel that including both the vocal and the instrumental version is just padding, as if anyone is going to ever play the instrumental mix. There's also the Chemical Brothers treatment which is about as 90s techno as you could get, but still leaves me cold. Like all the other Chemical Brothers remixes for the band, it runs for about two minutes too long and barely has ideas for one. A passable, forgettable racket.
The A-side deserved better.
Physically: The packaging hasn't changed - and won't be changing until ca. 2002 anyway - so no point in going through it in detail, it's all in the "A Design for Life" entry. The inner sleeve artwork is alternative shots of the photos from the album's cover (which I do admittedly think is appropriate for the title track). The sleeve quotes come from Edward Hopper on CD1 ("Maybe I am not very human - what I wanted to do was to paint sunlight on the side of a house") and Mark Rothko on CD2 ("Mute icons are the only kind of beauty we find acceptable today").
---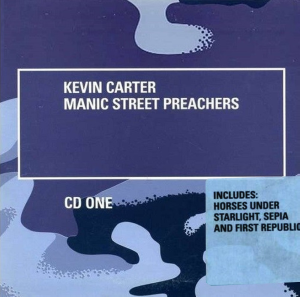 KEVIN CARTER
| | | |
| --- | --- | --- |
| Release year: | A-Side: | B-Sides: |
| September 1996 | 9 | 8 |
CD1: 1) Kevin Carter; 2) Horses Under Starlight; 3) Sepia; 4) First Republic
CD2: 1) Kevin Carter; 2) Kevin Carter (Jon Carter's Busts Loose Remix); 3) Kevin Carter (Stealth Sonic Orchestra Remix); 4) Kevin Carter (Stealth Sonic Orchestra Soundtrack)
The best overall singles package of the Everything Must Go era. "Kevin Carter" is a bit of a strange bird on the album with its jagged funk groove and trumpet solo making curious bedfellows with one of the album's few Richey-only lyrics, a cryptic pseudo-biographical view towards the titular photographer. It's catchy as anything, and the post-solo breakdown layered with James' harmonies, a beautifully serene spot amidst all the tension of the rest of the song, intrinsically links it with its parent album, so you can understand why it was turned into a single. It's a weird, multi-faceted pop song - and rather appropriately, the b-sides recorded for the single continue with that same unpredictable route.
Towering above all is "Sepia", one of the Manics' true lost singles. Enough time had now passed from Richey's disappearance that the true weight of the situation had begun to hit Wire - particularly in the wake of the success of their first album without him - and "Sepia" digs into that loss more directly than anything on the record. It's a sad and heartbreakingly wistful song, and for it Bradfield and Moore have crafted an impeccably delicate yet lushly melodic anthemic marvel, intimate yet epic to such an extent that it genuinely could have been an A-side in its own right. "Horses Under Starlight" is the very first Manics instrumental that has seen the light of day, Moore's trumpet from the A-side returning with a vengeance to lead through a charming Britpop-meets-bossa nova wander through Bradfield's ba-ba-bas and gently swooning melodies - it's an absolute delight, and you almost wish the rock-out finale didn't exist to break the song's jovially tender mood with some mandatory muscle. After these two curveballs, "First Republic" introduces yet another with its cheeky riff-lead guitar romp. It's a return to the Manics' once-frequent anti-monarchy jaunts, but it makes lines about burning down the palace sound like a right fun frolic with its cheeky falsettos, jolly handclaps and a 1960s twang. It's a set of three completely different styles and moods, all coming together to one of the most exciting mini-sets that appear in the Manics singles; it's practically essential listening.
The strength of the b-sides for this single continues on the CD2 issue with its traditional remixes. The Stealth Sonic Orchestras are, once again, a joy - this time "Kevin Carter" has been transformed into a classic spy film movie theme, taking more than little influence from the vague idea of 60s secret agent adventures and interpreting it through a soft chill-out groove. It's excellent, though the inclusion of the instrumental version feels superfluous in this case when the only vocals that the main remix keeps are the occasional vocal harmony from the original anyway. Jon Carter's (who is a great choice of remixer for this song, and I'm sure 100% intentional) Busts Loose remix meanwhile morphs the original into an eight-minute instrumental groove with a heavy didgeridoo lead. It's so 1996 British music scene but it's such a delight, and while you could easily shave off a few minutes of its runtime it never feels too long.
Physically: Same cardboard packaging as the previous singles, with the inner sleeves revealing photos of the band. The quotes are "Words themselves - the very material of our discourse increasingly take on masks or disguises" -Dennis Potter (CD1) and "When I was a kid I used to get fun out of horrors" -Eugene O'Neil (CD2)
---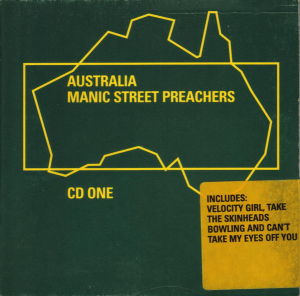 AUSTRALIA
| | | |
| --- | --- | --- |
| Release year: | A-Side: | B-Sides: |
| December 1996 | 8 | 6 |
CD1: 1) Australia; 2) Velocity Girl; 3) Take the Skinheads Bowling; 4) Can't Take My Eyes Off You
CD2: 1) Australia; 2) Australia (Lionrock Remix); 3) Motorcycle Emptiness (Stealth Sonic Orchestra Remix); 4) Motorcycle Emptiness (Stealth Sonic Orchestra Soundtrack)
Due to Nicky Wire's writer's block at the time, the fourth single off Everything Must Go receives a bunch of covers as its b-sides for the CD1 issue. Manics have never really been a particularly brilliant covers band - they do them well but most of the time very faithfully to the original and thus it mainly becomes a question of whose vocals you prefer out of the different versions. That's largely what you're going to get there too. "Velocity Girl" and "Take the Skinheads Bowling" are both fairly standard rockers in the Manics' hands, though the latter sounds like the band is genuinely having a ton of fun with the hollers, whoops and off-the-cuff backing vocals. It's one of their few b-sides they regularly play live even to this day and they even re-recorded it for the b-side covers compilation Lipstick Traces; so, if you're only familiar with that version then this slightly less muscular, more freewheling version does have something fresh to offer. The cover of the immortal "Can't Take My Eyes Off You" is also done fairly faithfully which in this case is only for the good - it's a classic song and James singing it is certainly no bad thing. None of these covers are anywhere near essential for any Manics fan, but you could also do worse. Middlingly positive, is the final verdict.
As per usual the CD2 has a bunch of remixes. The Lionrock remix used to be incredibly hard to find online back in the good ol' days of P2P filesharing, when importing CD singles to my humble little home country was trickier and so I did all my Manics b-sides digging online. When after ages and ages and ages of searching I finally got my hands on it, it... wasn't worth it. It's more readibly available now thanks to the subsequent anniversary packages, and now everyone gets to enjoy one of this band's most lackluster remixes which chugs monotonously forward with barely a trace of the original song. The typical Stealth Sonic Orchestra remixes are back as well, and it's rather weird that instead of reworking "Australia", they go for the perennial Manics classic "Motorcycle Emptiness". The old vocals are a huge clash in the regal sound world of SSO's remixes, but their suave electro-orchestra treatment is once more lush and regal and quite good. It works, even if this is the weakest of the remixes they did for the Manics.
"Australia" itself is one of the band's best straightforward rockers, and while the radio edit (with chopped off instrumental sections) is a little awkward it's still a grand rush in its urgent guitar fervour. It's an escapist anthem about running away as far as you can in an attempt to leave all your stress and worry behind you, and it practically soars with freedom. Jubilant.
Physically: Cardboard packaging with slipcases as is familiar from the last three releases: the inner sleeves have pictures of sheep, of all things. "Sleep away the years, sleep away the pain, wake tomorrow - a girl again" -Hal Summers (CD1) / "I am a little man and this is a little town but there must be a spark in a little man that can burst into flame" -J. Steinbeck (CD2)
---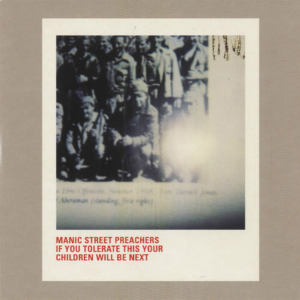 IF YOU TOLERATE THIS YOUR CHILDREN WILL BE NEXT
| | | |
| --- | --- | --- |
| Release year: | A-Side: | B-Sides: |
| 1998 | 10 | 9 | 7 |
CD1: 1) If You Tolerate This Your Children Will Be Next; 2) Prologue to History; 3) Montana/Autumn/78 CD2: 1) If You Tolerate This Your Children Will Be Next; 2) If You Tolerate This Your Children Will Be Next (Massive Attack Remix); 3)If You Tolerate This Your Children Will Be Next (David Holmes Remix)
Best CD single I own? Let's expand on that.
"Tolerate" is obviously the Big Song. It was also the first Manics song I heard. I was ten at the time and though I loved music, it wasn't a *thing* for me like it is now. My main sources of music were radio, TV and random various artists compilations I'd ask my parents to get for me time to time. I loved eurodance, I loved pop music, and I practically needed a higher-than-average BPM to actually think a song was worthwhile. Moody, melancholy music wasn't something I got a kick out of. And then "Tolerate" arrived and mesmerised me from the very first time I heard it. It caught me in its grip and though I had no idea of the artist, zero clue about its meaning and its sadness was almost antithetical to what I considered good music, I fell in love. This Is My Truth Tell Me Yours eventually followed and found its way in the dainty beginnings of my music collection and I had an incredibly hard time with it at first because, well, it's nearly all miserable slow jams. But "Tolerate" kept inviting me in and bit by bit, song by song it won me over. It's what introduced me to the kind of music that now forms the heart of my beloved collection and what has inspired me to start up several blogs and chatrooms and join numerous sites to immerse myself further in it. And it got me into the Manics, who would have a fundamental, foundational role in all that. I didn't become a full-fledged fan until after a few more of their albums joined the collection, but "Tolerate" got the wheels rolling.
It's been over two decades since I first ever heard the song and it still takes me in its hold with the mightiest of forces each and every listen. It's James' greatest vocal, Nicky's greatest lyric – the perfect mix of political and personal which he always strived for – the band's most impactful arrangement. The guitar solo might be simple but it is the perfect thread of music in the perfect place and acts as the launching signal for one of the greatest passages of music I've ever heard: the solo, the celestial middle eight, the last run of that incredibly powerful chorus and the staunchly resonant wordless outro where the Manics finally do what they've always seemingly avoided and let the music simply exist for a while, repeating that breathtaking finale for multiple wonderful loops before the song winds down.
So yes, the song itself has a lot of importance and meaning. But what makes the Tolerate single itself so fittingly brilliant is that not only is the A-side something marvellous, but the b-sides are stunning.
"Prologue to History" is nearly as incredible as the A-side, only left off the album because it didn't fit the rest of This Is My Truth Tell Me Yours mood-wise while in any other rational context it would have been an A-side of its own. While "Tolerate" is their greatest song, "Prologue to History" has a good claim as the band's most defining statement. It's an emotionally charged, all-conqueringly bold and astoundingly ambitious guitar anthem, fierier than the band has ever been even if they've been more aggressive or muscular in the past. Wire rants about his favourite i.e. himself and his band's legacy, purging his guts clean about his own self-loathing, the weight of the band's continuation and leaning heavily into the "internal is political" direction he was making the center of his lyrics. It is a manic preacher song and a real powerhouse of a showcase: it may be a b-side but it's essential Manics.
After two game-changers, "Montana/Autumn/78" can come off as a comparatively ordinary song and by the standards set by the two before it, I suppose it is. Nonetheless, it's a song that many bands would murder to have on their albums or even as a single in its own right. It's a tour de force of storming guitars, massive choruses, a backing vocal hook in a way that's rare for this band - once again likely left off the parent album only because This Is My Truth is an introspective and heavy listen, something a gargantuan rocker like this very much isn't. It only seems slightly lesser than the other two because, well, what wouldn't?
And then there's the David Holmes remix on CD2. The song is turned into an instrumental and stretched to ten minutes, the atmosphere meter is turned to max, the ghostly guitar rings in desolate space while an electric piano offers a soft accompaniment to the neurotic drum loop. Organ kicks in the chorus and in a surprise moment the extended, now-instrumental rendition of "Tolerate"'s chorus almost hits the same climax as the original version. The whole remix is like a spaced-out jam of the original song, turned into something otherwordly and alien. It's this band's best remix, and even though it obviously loses to the original it absolutely is worth an applause of its own. Which leaves the Massive Attack remix as the only real underdog across these two discs - it's a thoroughly okay, expectedly murky rendition of the song that has the bad luck of being alongside in the band's b-sides crowd.
"Great artists have no country" - Alfred du Masset, "Painting is stronger than I am - it makes me do whatever it wants" -Pablo Picasso
---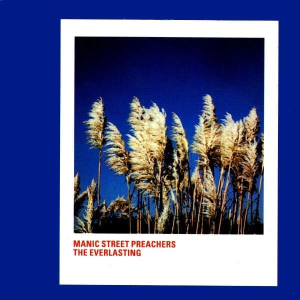 THE EVERLASTING
| | | |
| --- | --- | --- |
| Release year: | A-Side: | B-Sides: |
| 1998 | 10 | 9 | 7 |
CD1: 1) The Everlasting; 2) Black Holes for the Young; 3) Valley Boy CD2: 1) The Everlasting; 2) The Everlasting (Deadly Avenger's Psalm 315 Remix); 3) The Everlasting (Stealth Sonic Orchestra Remix)
The CD1 issue is another absolutely incredible package if you take the b-sides onto the account. "The Everlasting" is gorgeous itself - a quiet slowburner that blossoms into an aching epic, its walls of sound engulfing the listener in its melancholy rather than serving as an uplifting anthem. But the two tracks next to it give it a run for its money: neither deserved to be buried as single bonus tracks when they could've been classic album cuts in themselves. The Sophie Ellis-Bextor duet "Black Holes for the Young" is a gorgeous, glistening sway that swims in a thick, hazily atmospheric groove and despite only being a b-side, is quite possibly the band's best duet. "Valley Boy" on the other hand sounds like a hit single or a monumental album closer, that bursts in the air in a hair-raisingly euphoric explosion of bittersweetly beautiful melancholy, from the stylish organ to the sky-reaching chorus and finishing with one of James' very best guitar solos across the band's entire catalogue, past and present. This band were obviously freaking mad for throwing these in a single rather than keeping them stashed for another album, but such was the consistently high quality the Manics were operating on during the late 1990s.
The two remixes on CD2 delightfully draw from completely different moods to compliment each other. The Deadly Avenger remix is a neurotic, high-tempo and rhythm-driven remake that turns the original's melancholy ode to growing old into a desperate panic attack. Which arguably sounds more awesome than it actually is and it is a few minutes too long for its own good (which is somewhat amusing considering it's half a minute shorter than the original). Stealth Sonic Orchestra on the other hand rely on their trademark orchestral beauty. For the few years they actively remixed Manics singles their works were often the best re-interpretations and with this acting as their last Manics remix, I do miss their calm, somewhat serene versions of the familiar songs appearing on the singles from hereon in: they had a gimmick and they knew how to wield it. In any case, the SSO version of "The Everlasting" is one of my favourite SSO remixes. It's bombastic but not overblown: it underlines the song's beauty with some drama and is, well, beautiful, especially with the organ ending. It can't really compete with the original, considering how the original is from one of my all-time favourite albums and therefore holds a bit of a special place, but it is one of the essential Manics remixes if you were to go hunting for them.
"Perhaps my best years are gone but I wouldn't want them back, not with the fire in me now" (Samuel Beckett) / "I've always wanted and never succeeded in painting the smile" (Francis Bacon)
---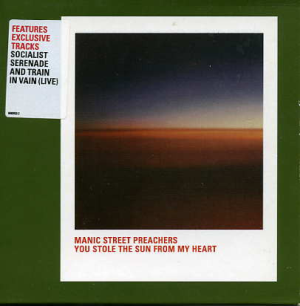 YOU STOLE THE SUN FROM MY HEART
| | | |
| --- | --- | --- |
| Release year: | A-Side: | B-Sides: |
| 1999 | 9 | 7 |
1) You Stole the Sun from My Heart: 2) Socialist Serenade; 3) Train in Vain (Live)
On This Is My Truth Tell Me Yours, "You Stole the Sun From My Heart" is a bit of an anomaly. While lyrically it's carved from the same introspective and melancholy tree as the rest of the album, musically it sounds almost jubilant to the point of being the album's most obvious single candidate; I'm actually surprised it only ended up being the album's third single, rather than being amont the first. It's a stadium-rocking, crowd-cheering rock anthem but it does it incredibly well: as far as the band's hit-seeking stadium rockers go, "ou Stole the Sun" is from the top ranks and despite becoming overexposed live, the studio version still sounds as fresh and powerfully loud as it ever did.
However, on an otherwise incredible b-sides period for the band the b-sides here are probably the weakest of the entire era. "Socialist Serenade" is admittedly good with all its yelpy vocals, drum loops and generally slightly unhinged mentality, but it somewhat runs out of steam before it finishes and overall sounds like an obvious b-side they didn't want to spend too much time on, leaving it sounding a little rough around the edges. The live version of The Clash's "Train in Vain" is an alright cover of an alright song, wheeled out to highlight the Manics' deep love for The Clash but this band has rarely been an exciting covers act, especially live. This isn't changing things.
"Art is the lie that helps us understand the truth" -Pablo Picasso (another Picasso quote for this period!)
---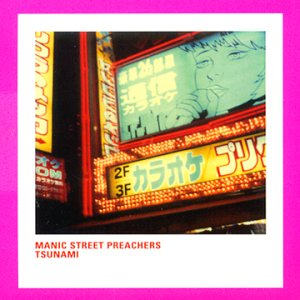 TSUNAMI
| | | |
| --- | --- | --- |
| Release year: | A-Side: | B-Sides: |
| 1999 | 10 | 8 |
1) Tsunami; 2) Buildings for Dead People; 3) A Design for Life (Video)
The A-side is a rather gorgeous piece radiating with class and style. Big choruses, atmospheric verses, swooping strings, a brilliant lyric going into Manics' classic biography territory (this is about the June and Jennifer Gibbons aka The Silent Twins), and immacutely and lushly produced all around - epic and rocking, yet very elegant and classy about it. "Tsunami" is refined and classy, yet sharp and striking. Classic song, classic single.
"Tsunami" only really got one real b-side on its CD1 issue (there's also the video of "A Design for Life" as data content because???), but it's a very interesting one. The last song of the gorgeously produced and arranged This Is My Truth Tell Me Yours era is anything but: "Buildings for Dead People" is a stripped-down, dirty, grungy, fuzzed-up garage rocking monster that moves back to more politically oriented commentary after all the introspection of its parent album. It foreshadows the era to come, as Manics were looking towards keeping the rough edges in and going with their gut instict up next. "Buildings for Dead People" is the sneak preview of Know Your Enemy, and it's a storming way to end the era it actually represents. Underneath all that filthy and fuzzy exterior lies a whopper of a chorus, and the extended outro with the eery space and James' yelpy vocals lingers on long after it's actually finished. Another great cut.
The only really negative side of this single is that horribly garish neon pink cover.
"Before us stands yesterday" -Ted Hughes
---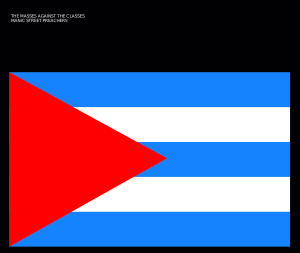 THE MASSES AGAINST THE CLASSES
| | | |
| --- | --- | --- |
| Release year: | A-Side: | B-Sides: |
| 2000 | 8 | 8 |
1) The Masses Against the Classes; 2) Close My Eyes; 3) Rock and Roll Music
Intended to both bring in the new millennium as well as to signal the return of the furious Manic Street Preachers after a few albums of more introspective and suavely arranged records, "The Masses Against the Classes" was released as a stand-alone single a few weeks after the band's Manic Millennium New Years Eve 2000 gig where it was previewed - and then promptly deleted from print the very same day, to be faithful to the band's old intentionally self-destructive stunts. Still made it into a hit though and deservedly so even without the publicity stunt nature of it (albeit the fact that literally no one else was releasing new singles on the 1st week of January helped). Three and a half minutes of impassioned guitar distortion and vitriolic lyrics, but with a big bold shout-along chorus to go with it. It's ultimately an indication of where the band would go next, but it still works as an off-the-cuff distillation of their first decade, tying in the punk attitude of the old guard (complete with the nod to "Motown Junk" with the spoken word miniature manifesto outro) with the stadium soaring of the hit albums, and with the traditionally Manics-esque intro sample clip to boot. It's a great song - a one-off single that actually feels integral to the band's journey, rather than just a curio.
The two b-sides were arguably intended to confuse as much delight, and the only thing common with them is that they both nodded towards the rougher edges and wild abandon of the upcoming Know Your Enemy. "Close My Eyes" shuffles along on its dirty drum loop and piercing acoustic guitars like it's about to fall apart any given moment, seemingly intent to break down the defiant highs of the lead song by indulging in Nicky Wire's self-doubt; if the A-side lashed outwards, this lashes inwards. It's a strange one but a good one - even if the band would move further towards this kind of ramshackle sound on Know Your Enemy, this still sounds aloof and unique in the discography. And as a cherry on top, a cover of Chuck Berry's "Rock and Roll Music" - a random choice, but the band sound like they're having the time of their lives and it slots among their better covers just because of that alone, Bradfield unleashing his rock star side again as the machine gun piano keeps on whacking behind him. It's my favourite version of this song, but I am a little biased here.
"Life can only be understood backwards, but it must be lived forwards" - Kierkegaard
---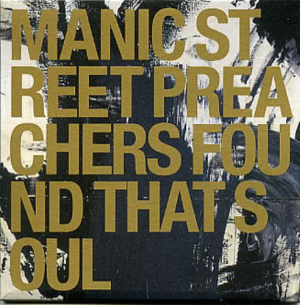 FOUND THAT SOUL
| | | |
| --- | --- | --- |
| Release year: | A-Side: | B-Sides: |
| 2001 | 8 | 8 |
1) Found That Soul; 2) Locust Valley; 3) Ballad of the Bangkok Novotel
Know Your Enemy is an atypically incoherent album for the usually fairly stylistically determined Manics, consisting of a bucketload of songs in various styles done through various production methods presented in a very ADHD-esque, scattershot-like fashion. It was, also atypically, preceded by two singles released on the same day in order to showcase the album's nature: the polished "So Why So Sad" gave a teaser on one side of the album, while the aggressive and crunchy "Found That Soul" acted as a preview of a complete opposite direction. And what's presented in the song itself, its b-sides backed. I don't think anyone was unclear of what was coming when they gave this three-tracker a listen.
"Found That Soul" is the main highlight and still blasts through its three minutes with a powerful, primal force proving signaling the return to guitar riffs after the moodier, subtler This Is My Truth Tell Me Yours. It may not have broken the charts and it's not particularly acknowledged by the band anymore in their great attempt to ignore about 70% of what they've ever recorded (even though it does get the occasional rare live outing) but in its own way it's a classic single in the sense that it's immediately iconic of the direction that was coming up, presenting it perfectly and acting as a great example of the ethos behind the era: rough around the edges and lots of energy and passion.
The b-sides of the single continue the route. "Locust Valley" may start with a lengthy introductionary passage of quiet sound but explodes into a loud guitar-stormer that buries itself in fuzz and filters to create an effective dynamic switch between the fuzzy, echoy moments of relative calmness and the clear, loud guitars that immediately follow them. Nothing that indicates it's an obvious discard, either. "Ballad of the Bangkok Novotel" on the other hand introduced the world to the concept of Nicky Wire's lead vocals and as they crudely rant, ramble and swear the several verses in a typically charmingly ugly Wire fashion, the music that backs it roars and storms through a furious, shambling punk rock monstrosity that covers its repetetive nature in sheer sound. It's a ton of fun.
The band wanted to rock again. They sure made it clear with this one.
"Our life is frittered away by detail - simplify, simplify." -Henry David Thoreau
---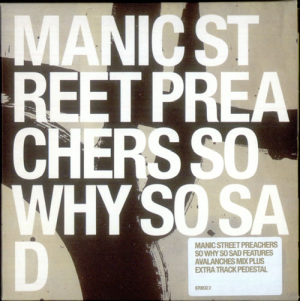 SO WHY SO SAD
| | | |
| --- | --- | --- |
| Release year: | A-Side: | B-Sides: |
| 2004 | 9 | 8 |
1) So Why So Sad; 2) So Why So Sad (Avalanches Remix); 3) Pedestal; 4) You Stole the Sun from My Heart (Live at the Millennium Stadium, 1999)
My first fanboyism fueled single purchase! Woo! Many fond memories - many, many sunshine-filled mornings before school spent playing this single while preparing for the day ahead. Perfect mixture of overall feel and length.
I'm one of the few who adore the A-side of this. Insanely hyperproduced, filled with about a billion different things going on that all muddle up to a shiny fuzz. Tons of wonderful backing vocal action. Summery feel-goodness with abstract pseudo-religion related lyrics. Ridiculous synth squeal solo! It's a typical Know Your Enemy moment in the way how it resembles very little else in the band's catalogue, a weird stylistic experiment that pays off brilliantly.
The b-sides are pretty intriguing. Each represents one of the basic archetypes of risky B-sides: the remix, the live track and the off-rails studio stylistic throwaround. Curiously, they each succeed. While "So Why So Sad" itself is still a serious song (thanks to its serious lyrics) despite its Beach Boys esque summer pop mood, the Avalanches remix cranks up the happy happy joy joy meter beyond eleven and transforms the song into the ultimate beach party anthem. It's hilarious, and genuinely awesome. "Pedestal" is, like its A-side companion, one of those hate it or love it kind of tracks. It's driven by Sean's drums and some really warped guitar stabs. James sounds creepy as hell as he sings about a target of stalkerish, worshipping devotion. Nicky does a haunting vocal cameo that sounds like a voice beyond the grave. The chorus collapses into a storm of cymbal crashes and shouting vocals. The disjointed feel makes it brilliant. Finally, there's the Manic Millennium live version of "You Stole the Sun from My Heart". It's very faithful to the studio version in terms of structure but the feel of the performance turns it from forgettable B-side filler to a recording that stands repetition. The band is having the time of their lives (James in particular stands out with his soaring singing) and the crowd is loving it. It's infectiously joyous.
"I love the autumn for its sense of melancholy seems to strike my need for sadness. There is poetry in the dying of the year and mystery as well" -Kyffin Williams
---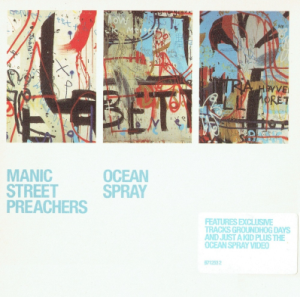 OCEAN SPRAY
| | | |
| --- | --- | --- |
| Release year: | A-Side: | B-Sides: |
| 2001 | 9 | 8 |
1) Ocean Spray; 2) Groundhog Days; 3) Just a Kid; 4) Ocean Spray (Video)
If you think lead singles should represent their parent albums, then this is the lead single off Know Your Enemy even though it's technically the third one. The "Found That Soul"/"So Why So Sad" double lead single release gave an idea of how eclectic Know Your Enemy could be at its extremes, but "Ocean Spray" is a more accurate representation of what dominates the album musically: a rough rocker devoid of any studio sheen and which lies somewhere between the band's own musical spectrum end points. The subdued verses and beautifully subtle chorus make way for loud, almost out-of-nowhere guitar walls that act as the song's focal point - brief moments of aggression amid an otherwise melancholy song. The incredibly rare touch of James Dean Bradfield himself writing the lyrics he sings (about his mother who lost the fight against cancer) adds to the emotional impact. The cherry on top is the understated and wonderful trumpet solo.
The b-sides continue along the lines of the a-side. "Groundhog Days" is a firm believer in the good ol' quiet-loud formula, feels strangely cathartic in the cacophony of cymbals, vocal yelps and guitars it calls a chorus and features a rather memorable vocal cameo from Nicky Wire. "Just a Kid" focuses on the melodic side of the band and presents an autumnal, wistfully upbeat tune with some gorgeous guitar lines and great vocal parts - in many ways a song fit for an album rather than a single. Your typically great Know Your Enemy-period b-sides, then.
"As long as you know I am waiting, take your time flowers of the spring" -Mishima
---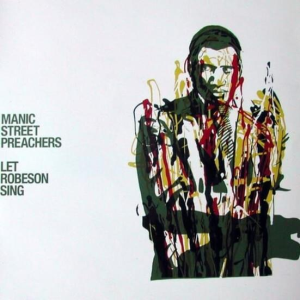 LET ROBESON SING
| | | |
| --- | --- | --- |
| Release year: | A-Side: | B-Sides: |
| 2001 | 8 | 8 |
1) Let Robeson Sing; 2) Masking Tape; 3) Didn't My Lord Deliver Daniel; 4) Let Robeson Sing (Video)
An effortlessly lush jangly little number full of lovely vocal harmonies, instrumental flourishes and a little bit of a gospel flair. Manics rarely simply let the weight of the world wash off their shoulders and submerge into something downright graceful and beautiful, and it's a delight to hear them do so when the results are this good. The only thing that acts against are the occasionally clunky lyrics (Nicky Wire doing one of his biography works), but they're soon forgiven when you reach the sublimely heavenly middle-eight: a sample of Paul Robeson's speech booming through the speakers, surrounded by James' multi-tracked harmonies, eventually rising into one of the band's most genuinely pretty choruses. Know Your Enemy is a confrontational wildfire of an album: "Let Robeson Sing" is its gentle moment of sunshine.
Infamously released a day before 9/11, so it sadly never got much of a spotlight.
"Masking Tape" is one of the band's classic b-sides. Much like the A-side it brisks away effortlessly and with a beaming warmth to it: it's a perky, upbeat pop rocker and James sounds genuinely relaxed and full of life in it, and it carries a chorus that could genuinely have been worthy of an A-side (this honestly feels like a double A-side single). Know Your Enemy featured a strange, hidden interlude towards the backend of the album consisting of a dreamy, washed-out keyboard background under James' multi-tracked vocals - "Masking Tape" reveals its origin, appearing as the song's rather off-the-cuff but powerful middle eight. It takes some audacity to rip off the bridge of such a great song and slap it in the middle of an album where the song itself doesn't appear, even though it has all the right to.
"Didn't My Lord Deliver Daniel" is a cover of a gospel standard from Paul Robeson's repertoire. Out of the three songs it's clearly the weakest overall, but production-wise it's still quite gorgeous: what could have been just a quiet James acoustic piece is lifted up with some ambient textures. It still doesn't stand out much in the greater Manics b-sides pantheon - even among the other covers - but it does work as a nice epilogue for the single as a whole.
It's only fitting the band chose a quote from the man himself for this single. "I shall take my voice wherever there are those who want to hear the melody of freedom" -Paul Robeson
---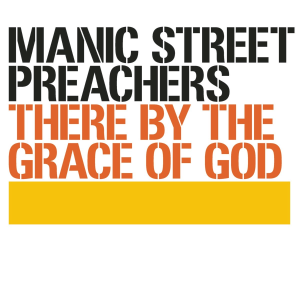 THERE BY THE GRACE OF GOD
| | | |
| --- | --- | --- |
| Release year: | A-Side: | B-Sides: |
| 2002 | 10 | 8 | 8 |
CD1: 1) There by the Grace of God; 2) Automatik Teknicolour CD2: 1) There by the Grace of God; 2) Unstoppable Salvation; 3) Happy Ending; 4) It's All Gone
It was time for a career-spanning greatest hits compilation and so the Manics went in the studio to record the few mandatory new songs to lure in old fans to buy the album. In all likelihood they treated the songs like the sort of unimportant throwaways most artists treat such songs during the recording, but the band were at their creative peak years and they were already heading towards one of their strongest ever albums for that to rub onto the new throwaway songs.
"There By the Grace of God" was lifted as the single to promote the compilation. For a greatest hits compilation song, it's possibly the least Manics-like track to put on such a place. "Grace" shows the first signs of the band's more subdued, electronic and synthetic route they'd end up taking in the future. Powered by a mechanic beat and layered upon layered with melancholy, lonely guitars, eery and ethereal keyboards and synthesizers unheard before in the band's work, "Grace" was pretty much nothing like the band had ever done before. And despite its nature as a mandatory new song to toss on a compilation, it turns out to be one of the band's greatest singles and songs. The atmosphere is gorgeous, James' vocal performance is wonderfully weary and works together perfectly with both the lyrics pondering about the nature of religion and the music that merges such a personal subject with a synthetic, dreamlike music. It's a masterpiece.
The b-sides are also brilliant, even if not as great as the lead track. "Automatik Teknicolour" is almost a revisit of the past hit "You Stole the Sun from My Heart" in its melodic-loud-melodic-loud structure and the drum machine ticking underneath the live drums; but rather than the bittersweet fury of the more famous song, "Automatik Teknicolour" is awash with a bright atmosphere and sounds like it's bursting through its seams with unbridled energy - it's a joy, and even the impossibly vague lyrics work with its half-conscious mood. "Unstoppable Salvation" is a classic Manics b-side that shows how simple can be stunningly powerful when made the right way - the bassline is brilliant, the little musical breaks are excellent and the chorus is downright euphorically gorgeous, especially when Wire joins in on the backing vocals and Bradfield switches up the vocal melody in the second chorus. "Happy Ending" is the weakest of the lot but it's still a good song: acting as a hypothetical goodbye song should the band have ended their career here, it's a suitingly teary-eyed and wistful goodbye letter that tries to keep the chin up to the very end. It begs for a more bombastic production though (especially apparent in the last chorus), which it likely didn't get thanks to its b-side role. "It's All Gone" finally takes the dreamy atmosphere of "There By the Grace of God" and takes it to the maximum, hypnotically pulsing in a heavily filtered dream world propelled forward by a thick bass riff and an armada of keyboards. It's ethereal and surreal, and absolutely sublime.
I don't really do the physical packaging descriptions for the CD singles like I do with albums (though Manics would deserve it given how gorgeous some of their CD single packaging was in the 1990s), but it's worth to point out here that I've got some freak Euro versions of these two CD singles where the b-sides are slightly off their standard, UK places - the UK single had "It's All Gone" on CD1 as well. Even the packaging between the two singles I've got differs massively, with CD1 in a thin cardboard slipcase and CD2 in a more familiar thin jewel case the band would switch to in the 2000s.
"I feel so alone sometimes/The night is quiet for me/I would love to be able to sleep/I'm glad everyone is gone now/I will probably not rest tonight/I have no need for all of this/help me Lord" -Elvis Presley / "We have just enough religion to make us hate but not enough to make us love one another" -Jonathan Swift
---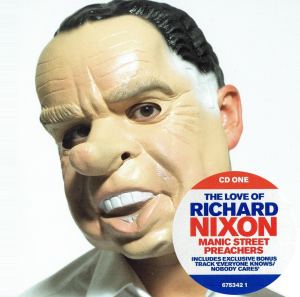 THE LOVE OF RICHARD NIXON
| | | |
| --- | --- | --- |
| Release year: | A-Side: | B-Sides: |
| 2004 | 10 | 9 | 8 | 8 |
CD1: 1) The Love of Richard Nixon; 2) Everyone Knows/Nobody Cares CD2: 1) The Love of Richard Nixon; 2) Everything Will Be; 3) Askew Road; 4) The Love of Richard Nixon (Video) DVD: 1) The Love of Richard Nixon (Video); 2) Quarantine (In My Place Of) (Short Film); 3) Voodoo Polaroids
We're now entering the brief period where besides the two standard CD issues, the band would release a DVD single as well. Capitalism! Collecting!
"The Love of Richard Nixon" was an insane choice for the lead single from Lifeblood, as brilliant of a track as it is. Its cold and rigid synth pop has little to do with the album itself beyond the crisp production style, but I guess it was the safest thematically - a political song as a token of familiarity on an otherwise alien album. The band's admitted that they were pressured by the label to release it as the lead single, a decision which probably cost them a fair amount, so there's that nasty angle to it. It's still a superb song though. It gets under your skin with its robotic groove, James' distant and layered vocals which add a creepy atmosphere to the whole thing, and of course all the countless production and arrangement elements and details that truly elevate it. The song is brimming with life despite its studio-processed sound, and you can still hear brand new elements even years on in.
The Lifeblood period was a phenomenal b-sides time for the Manics and the "Nixon" extras start it off perfectly. "Everyone Knows/Nobody Cares" is a continuation of the more robotic synth pop direction of the A-side and merges it a little closer to what Lifeblood is generally about from a sonical perspective, but unlike the rest of the period it shows such anger and restrained fury throughout. It's an angry, vengeful song in the guise of a indie disco floor filler - and it's magnificent. "Everything Will Be" suffers from some questionable lyrical flaws but the dreamy, subdued atmosphere of the song is like a great blue ocean that the listener sinks into, as the hypnotic bass, minimal guitar lines and layers of keyboards drown everything underneath. "Askew Road" strips everything down to just those keyboards and sings a mournful lullaby for times long lost. It even includes a voice sample of Richey himself, which is at first a bit on the nose but it grows on you and it does tie the song to its message in actually quite heartbreaking way.
The two b-sides of the DVD single are pretty different from the rest of the era. The atmospheric, keyboard-driven sound and pristine clean production are glowing in their absence and instead "Quarantine (In My Place Of)" and "Voodoo Polaroids" are gruff, dirtily roaring guitar rockers where the sound is raw and the instrumentation straightforward. Both are brilliant as well - "Quarantine" is arguably the most traditional sounding Manics song of its parent era and its whoo-oo-oos are irresistable, while "Voodoo Polaroids" simply grooves like a maniac in such a violently joyous way. And because it's a DVD-format single we're talking about, both songs also get their own visual accompaniments. "Quarantine" gets a Patrick Jones video that combines footage from the recording sessions with his usual nonsensical imagery, though it's probably Patrick's best Manics-video (not that that says much). "Voodoo Polaroids" only gets a photo slideshow to go with it, but the "Nixon" and Lifeblood era promo shots are pretty good. The video for "Nixon" itself is one of my favourites by the band. It's a bit over-elaborate in the way that doesn't strictly suit the band, but it leans on it so heavily it moves into the same creepily uncanny valley territory that the song represents. Plus the band look positively enchanting in their Nixon masks and sterile-white garments.
The sleeve quotes for all three issues are campaign slogans from Nixon's three presidential campaigns: "Richard Nixon for the future!", "Our nation needs Nixon!" and "President Nixon: Now more than ever!"
---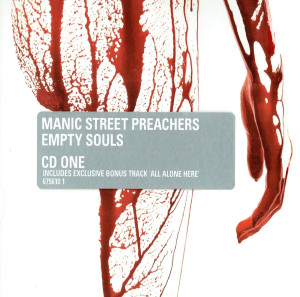 EMPTY SOULS
| | | |
| --- | --- | --- |
| Release year: | A-Side: | B-Sides: |
| 2005 | 10 | 8 | 8 |
CD1: 1) Empty Souls (Radio Version); 2) All Alone Here DVD: 1) Empty Souls (Video) 2) Dying Breeds (Short Film); 3) Failure Bound
Another lovely physical collection example here. If you preordered the "Empty Souls" single from the Manics' site at the time you could get a cardboard box where all three single issues could be stored. I managed to snag one from a fan years later which is pretty great (they were numbered - mine's 4559)... and I still need to complete the set with the CD2 issue. One day.
The single version of "Empty Souls" changes a single line, with the Twin Towers referencing lyric in the chorus switched to "dying flowers". Not only does it make little sense in the context (dying flowers collapsing really doesn't have the same impact as the Twin Tower event when describing something colossal and impactful), but the backing vocals still retain the old line. Talk about half-arsed. That said, it's the only minor niggle one you can throw at "Empty Souls" here - the song itself is a regally majestic giant that pounds and glistens in the cold, vast space it inhabits. Gorgeous and glorious.
"All Alone Here" is an obvious b-side - it repeats the same verses, the structure is quite simple and altogether it has the bearings of a song that's perhaps still half-finished and left that way as it was just going to be a b-side. And I've gone on and on throughout this page about what a strong b-sides band Manics are, and at this stage it must be no surprise that even their sketches are fantastic. The lively and groovy bassline is worth full praise in itself - truly one of the best Manics bass tracks - but the groove is so featherweight that it practically glides. The chorus raises the song to high heavens, ringing in the air beautifully and effortlessly. Just think what it could've been with a little extra refinement!
The b-sides for the DVD edition follow in the wake of "The Love of Richard Nixon", i.e. they take a knowing step askew from the general trajectory of the era. In fact, it's a regular experimental Wire-fest this time. "Dying Breeds" is effectively a prelude to Wire's solo debut I Killed the Zeitgeist: some memorably clunky lyrics and typically Wire-esque devil-may-care attitude mixed with some surprisingly strong, if simple melodies. It's a heartwarmingly lovely little pop nugget from a most unexpected source. The "short film" is just another one of Patrick Jones' art school freshman videos, delivered with all the lo-fi filters and ~SYMBOLISM~ as you'd expect from him (it's a song about marriage so obviously Jones shoves in footage of a wedding ring over and over and over again). "Failure Bound" on the other hand is one of those things that sounds plain awkward on paper but brings out surprisingly good results. The music is "No Jubilees" off the CD2 issue of this single played backwards, over which Wire recites spoken word poetry for three minutes. It's confusing and perhaps inessential, but there's something incredibly hypnotic to the whole affair and it clutches onto you with surprising strength, by the sheer combination of Wire's gruff narrator voice and the perversely looping backmasked background: it's such an obvious single b-side filler but it works to surprisingly strong results.
"By the light of our insistent truths we wander into death" -Edmond Jabes / "Death came and he looked like a rat with claws - I made him go into the wall" -Jenny Holzer. The box gets its own quote too, with "After the first death there is no other" from Dylan Thomas.
---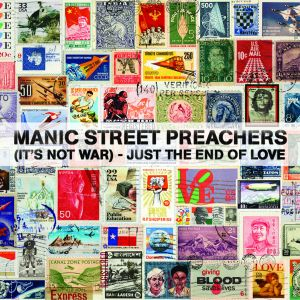 (IT'S NOT WAR) JUST THE END OF LOVE
| | | |
| --- | --- | --- |
| Release year: | A-Side: | B-Sides: |
| 2010 | 7 | 8 | 6 |
CD1: 1) (It's Not War) Just the End of Love; 2) I'm Leaving You for Solitude; 3) Distractions; 4) Ostopolitik CD2: 1) (It's Not War) Just the End of Love); 2) Lost Voices
"It's Not War" is a by-the-numbers Manics single but it's enjoyable by-the-numbers. It's fairly clear that the sole purpose of the song's creation was to have a lead single for a commercial rock album and it's not particularly filled with inspiration, but to the band's credit they manage to squeeze some joy out of it. It's a bit generic, but it's convincing enough that you let your hair down around it and enjoy the ride. When the last chorus hits the airwaves, you can almost imagine yourself singing along to some sort of massive hit song filled with rock euphoria. Which, in the end, you're not but the song at least tries and has enough of a glimmer to it to not screw it up completely. It's one of their most inconsequential singles - if not the most - but I'm almost grudgingly positive about it.
The B-sides end up outshining the A-side. "I'm Leaving You for Solitude" is a relaxed, vaguely Beatle-esque singalong led by a pounding beat, some calm acoustic strumming and a lot of lovely vocal melodies. Unlike the A-side, it's remarkable on how effortless it is: it takes that same feeling of musical joy that "It's Not War" hints at and runs with it far further. It's simply a joy to listen to. Same applies to "Distractions". It's a straightforward rocker and lyrically it continues Wire's facepalm-enducing crusade against modern technology, but damn it if it doesn't sound like it's having fun doing it. It's hard to pinpoint what in particular makes it such a blast to listen to: possibly the sense that the band was having oodles of fun while recording it and that sense of sheer good feeling radiates from the song. "Ostopolitik" continues the line of instrumentals the band has started writing in the years prior to this and it's arguably the first one from the 00s works (outside the sort-of-released "untitled instrumental" that once existed on their website) that sounds like it was meant to be an instrumental from the get-go rather than a song someone forgot to mix the vocals in. It's not particularly mindblowing but it thrives pretty decently nonetheless: the signature guitar riff of the song is memorable and the piano of the 'verses' adds a lovely touch.
"Lost Voices" on the CD2 issue is the runt of the litter: a decently enjoyable but a tad nondescript little rocker. It's obviously an outtake but not without its merits and particularly the verses have something of interest going on for them, and the more down-to-earth production is to the song's benefit. In fact, this could be something a lot more if it had more general oomph in select parts of the song, most notably the slight let-down of the chorus. It's still decent though.
"We are all transistors in the literal sense" -Karl Heinz Stockhausen / "One thing that success has taught me is censorship" -Tracey Emin
---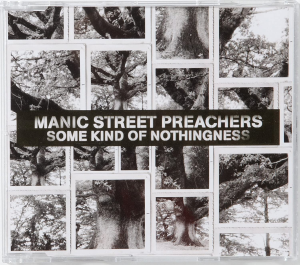 SOME KIND OF NOTHINGNESS
| | | |
| --- | --- | --- |
| Release year: | A-Side: | B-Sides: |
| 2010 | 8 | 7 | 6 |
CD1: 1) Some Kind of Nothingness; 2) Broken Up Again; 3) Red Rubber; 4) Evidence Against Myself CD2: 1) Some Kind of Nothingness; 2) Slow Reflections/Strange Delays
The most hit-seeking song in Manics' latest attempt at scoring another hit album. The epic anthem settings are tuned to the max, there's big dramatic choruses, gospel choirs and string orchestras, and even some star-studded extra power as Ian McCulloch has been brought to the studio to duet with James, almost as if in an attempt to summon the same power that turned their previous duet into their biggest single of their recent years. It'd be easy to be cynical about this... I can't help but love its uncontrolled bombast. It's a great song, damn the warning signs: it's epic kitchen sink bluster but executed excellently, with a solid performance from both James (less so McCullough, who adds relatively little to the song) and some really good hooks. Sometimes all you need is a little comforting epic bombast and "Some Kind of Nothingness" hits the right buttons to trigger some pleasant goosebumps.
In terms of the b-sides, "Red Rubber" is one of the most exciting things the Manics ever released in the latter half of the 2000s. This was a period where they tried to be safe more often than not and even their b-sides didn't see their usual wild offshoot adventures, but here that instict comes back with a bluster. "Red Rubber" is bonkers - it mashes together spaghetti Western verses with heavy-kicking electronically beating riff-rocker choruses, and the result is a surreal and completely bizarre synth-Wild West floor filler battle cry. It's fantastic and exciting, with the only negative point being that it suffers from the band's (or James') at-the-time irrational fear of songs that go over three and a half minutes, ending just when you think the song was only halfway through.
The other two b-sides on CD1 are a little more in line with the band's then-current tendencies, but both benefit from the carefree environment of being a bonus track for fans only. "Broken Up Again" charms with some great keyboard parts, vocal hooks and sharp production while "Evidence Against Myself" is another example of Wire's lyrical pen finally returning back to form, accompanied by a pleasant rock stroller that doesn't make much of a big number out of itself but makes that relaxed effortlessness its main takeaway.
"Slow Reflections/Strange Delays" is a James solo cut, and while his acoustic spots are typically thoroughly enjoyable and they all have their own angles, in the case of "Slow Reflections/Strange Delays" this being an electric guitar backing the acoustic, around this period of Manics' b-sides they had become part of the routine and you always come into each song knowing exactly what to expect. As is the case with this as well. Pleasant and nice but nothing to really remember or treasure.
My copy of CD2 - exclusive to the band's website - is signed by all three members.
"The middle class is a luxury capitalism can no longer afford" -John Gray / "The worst immorality is to give in, give up" -Andrea Dworkin
---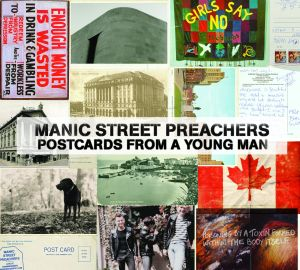 POSTCARDS FROM A YOUNG MAN
| | | |
| --- | --- | --- |
| Release year: | A-Side: | B-Sides: |
| 2011 | 8 | 7 | 7 |
CD1: 1) Postcards from a Young Man; 2) Inky Fingers; 3) Engage with Your Shadow; 4) Kiss My Eyes for Eternity CD2: 1) Postcards from a Young Man; 2) Midnight Sun
It's a look back to the past. It sounds like an attempt to rewrite "Everything Must Go". It sounds commercial as hell. But most of all, it sounds right. It may be reinventing the wheel and visiting past glories, but the Manics have remembered to include their heart and soul with the song. "Postcards From a Young Man" might be the most typical sort of Manics song there is, but it sounds natural and genuine - a band doing something they do well and sounding like they're having fun with it. I'm all for bands trying different things and while one of Manics' eternal anchors is their desperate desire to relight past flames instead of moving forward, but when they make going back to their past sound this jubilant it doesn't matter which direction they're going. It's just a lovely song.
The b-sides on the other hand do march on forward, further showing signs of the band regaining their magic touch with b-sides that had been slightly on the downlow for a while. It's not to say that the three songs here are all success stories, but even when they're not great they still have something to get excited about. In fact, only "Kiss My Eyes for Eternity" with its unbelievably lush and gorgeous melodical strolling is the only great song here. "Inky Fingers" may not be as great (it's still good though) and sounds a bit half-finished, but its sound hints towards a more electronic direction and sounds highly intriguing: the production is actually its best part. "Engage With Your Shadow" on the other hand is, well... it's Nicky ranting about god knows what on top of messy electronics and noisy guitars in an incredibly bizarre way, and not succeeding particularly well at it, but it stands out and like a lot of Wire material, it's somehow captivating.
Amusingly for a song that's such a throwback to the band's past works, the B-side of the CD2 issue is an actual throwback to the band's past, literally. "Midnight Sun" is a song the band wrote and recorded during the Know Your Enemy sessions but then somehow forgot all about until a decade later they decided to resurface it. No re-recording either. Just simply finally released it, without ever before even telling it was there to begin with. And you can tell why it did get shelved - during the incredibly mad Know Your Enemy it was perhaps deemed a little too safe, more in line with the previous couple of albums than what the band were going for at the time. It's the sort of standard-good where you can find things to enjoy (I particularly enjoy the chorus, with that wonderful organ and some great guitar lines) and it's definitely memorable, but it's not massively notable moment in the overall scheme of things. I dare say it sounds somewhat unfinished and I suspect this is the reason it never saw the light of day during the otherwise massively prolific era: it sounds like a slightly polished demo and I wouldn't be surprised if it was one. Still, it's an enjoyable one.
"To read a poem in January is as lovely as to go for a walk in June" -Jean-Paul Sartre / "There is no such thing as simple. Simple is hard." -Martin Scorsese
---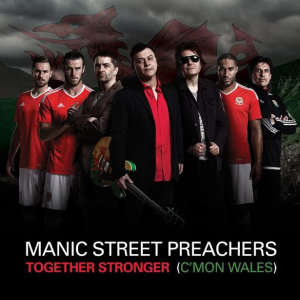 TOGETHER STRONGER (C'MON WALES)
| | | |
| --- | --- | --- |
| Release year: | A-Side: | B-Sides: |
| 2016 | 5 | 7 |
1) Together Stronger (C'Mon Wales); 2) A Design for Life (David Wrench Remix)
I'm not a football person - at all - so this was probably always going to leave me cold to some extent. The band are fans of their local football club and for the 2016 league they were asked to write a theme anthem for the Wales football team to accompany them to the Euros (??). Unsurprisingly given this was meant to be a lowest common denominator anthem, the Manics are on autopilot mode here, in their string-laden guitar anthem comfort zone - but we are talking about a song that's trying to be a crowd-rousing and crowd-pleasing sing-along so that's not too surprising either. The chorus manages to elicit a positive reaction to the point that I think the melody might be a little wasted here, and the roll call breakdown gets on my good books if only because it reminds me of Adam & Joe's "The Footie Song", i.e. the greatest sports anthem in the world. But otherwise... it's a bit of a nothing song really, and predictably with a very clunky set of lyrics that Wire tries hard to make work and Bradfield works twice as much to make them sound good. An average throwaway where I think the most important thing for the band was the chance to do it to begin with.
The tacked-on remix of the then-20-year-old "A Design for Life" (because crowdpleasers, I'm guessing?) is actually the more interesting thing here. Manics remixes are always very hit or miss, and maybe surprisingly this makes it to the former category, moving from an ambient territory into a classy electronic swirl. It's like an updated version of the old Stealth Sonic Orchestra remixes from the time of the original song's single packages, which rank among the top tiers of Manics song reworks - and while it's still a way away from that lofty height, it's not a bad candidate for that DIY remix best-of that some of us have lying around
Tragically there's no sleeve quote here - and I say tragically because this is likely to be the last CD single the band ever produced, so their grand tradition ends with a whimper (thanks digital era). But at least my copy is signed.
---
Back to beginning